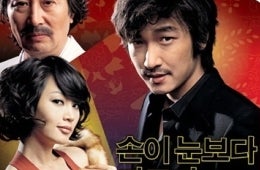 Bored at the prospect of a summer of superhero movies based on characters you knew from your youth? Then perhaps you should be looking to Korea for inspiration, where director Choi Dong-Hoon and producer Eugene Lee are teaming up to bring the world an hero for an all-new generation.
The two have announced that they're working on a new movie about a cursed magician escaping from 500 years of imprisonment to save the world from evil forces. The project - which has the working title of Jeon Woo Chi - will be written by Tazza's Dong-Hoon, adapting an anonymously-authored novel from the Chosun Dynasty, and includes all the ingredients necessary for box office success: A love interest (Su-Jeong Lim), an evil villain (Yun-Seok Kim) and a quest for a magical object, the manpaseokjeok - a musical instrument that will give its owner magical powers.
Shooting on the movie starts in August, with a planned release date of summer 2009, by which point even The Incredible Hulk will be a fond memory.
Korea pair prep superhero film [Variety]