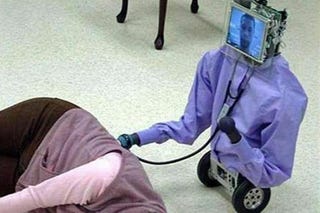 When it comes to future depictions of careers, things are always rather unfairly weighed towards the law enforcement angle - We've seen Robocop, Judge Dredd, Minority Report and even Future Cop. But who talks about the medical profession of the future? That was the thinking behind medical blog Medgadget's Sci-Fi Writing Contest, the winners of which were announced this weekend.
The blog, which only announced the contest itself on Hallowe'en, described it like this:
The competition is designed to present to the public talented writers, among our readers and beyond, who imagine the future of medicine through fictional stories. Whether it is a hitherto unknown ethical dilemma that will come up many years from now, or an imaginary technology, we can't wait to see this year's entries!
This year's winner was Different Day, Same Chip by Charles Pappas, a story that mixes calorific intake, Twitter and RFID chips implanted into people just to keep track of their health... and update them on how much their next health insurance payment is going to be on a regular basis. Runner-up prizes went to 30 Minutes of Clinical Ethics by Kevin Bond and APA 4000 by Daniel Gow. You can read all three stories here.