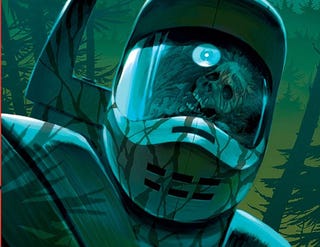 A French graphic novel that asks tough questions about war and cyber-voyeurism is getting a movie adaptation directed by James Mangold (3:10 To Yuma). Cyclops (Cyclopes) is about a team of mercenaries in a dystopian future who wear webcams on their helmets, to broadcast their killing sprees to civilian voyeurs. Click through for details and the first three pages of the graphic novel (in French, sorry.)
Written and drawn by Alexis Nolent (The Killer), Cyclopes is about mercenary forces who wear cyclops-like cameras on their helmets, broadcasting images to both their commanders and paying civilian audiences. The main character is a mercenary who's chosen to lead an elite squad, only to question whether he's fighting for freedom and justice, or commerce. Says Mangold:
It is an electrifying package you find in the best sci-fi: great action sequences combined with themes that are eminently foreseeable.
[Variety]