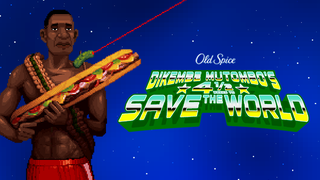 The most challenging level of Dikembe Mutombo's 4½ Weeks to Save the World has just been released. Dikembe and Science are donning their most festive of holiday* sweaters, exchanging holiday* gifts, when they realize what they've been fighting all along — the INTERNET.
So Dikembe takes flight and embarks on a quest to annihilate any Internet meme in his path: from LOLCats to grumpy cat, and every dude wearing a horse head mask in between. Meanwhile, Science is launching a friendship attack from a separate location. They take quite a beating from the all-powerful Internet, and Science's life — and festive sweater — hang in the balance. Will he survive? Or simply become another Internet meme relegated to the goofing-off-at-work of yesteryear?
Win $1,000-worth of stuff while you're at it!
Tweet your game tips along with the hashtag #dikembetips by 6 PM ET on December 19, and you'll be entered to win a Dikembe Disco Kit, including an official Cosby sweater (so you can dress like Science the Bear!), a home planetarium (so you can enjoy actual Science!), a disco ball (do not destroy!), K-Pop headphones (keep that shizz to yourself!), a 4-person survival kit (juuuuuust in case), and an Old Spice Champion jet — er, prize — pack (for fresh smells!). The whole shebang is worth more than $1,000.
Play Dikembe Mutombo's 4½ Weeks to Save the World here (or below!).
*Definitely not Christmas.
This contest is hosted solely by Gawker Media. Standard contest rules apply. Only open to US residents. Readers may also enter by sending their score and contact information to Gawker Media, Attn: Dikembe Disco Kit Contest, 210 Elizabeth Street, Fourth Floor, New York, NY 10012. The contest begins on December 3 at 11:59 am EST and ends on December 19 at 5:59 pm EST.