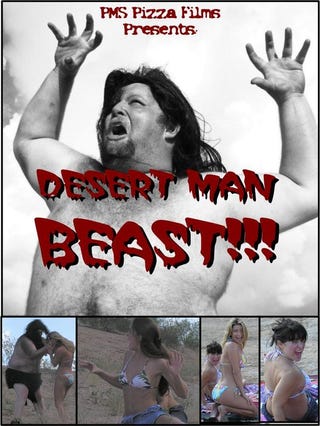 Along comes a Z-movie to meet all your needs: This sequel to cult classic "The Beast of Yucca Flats" delivers a guts-eating monster and scantily-clad ladies covered in fake blood. We've got a gallery.

Desert Man Beast has a lot to live up to. The Beast of Yucca Flats, released in 1961, is a tangled mess of atomic monsters, KGB agents, and pig-feeding. It stars Tor Johnson, the wrestler who was a favorite of Z-movie auteur Ed "Plan 9 From Outer Space" Wood, Jr. Basically the plot - if you can call it that - involves a guy running from the KGB, who may have landed on the moon (?). Our guy gets irradiated in the desert of Yucca Flats, and becomes a rampaging monster (Johnson). He bites people and menaces a nice family who really just want to pet some pigs.
The sequel features a new beast, who sports a very nice little furry pair of trunks. He gets to menace nubile ladies instead of a family, and I'm not sure if there's going to be any atomic KGB connection. But these stills make me think it might be worth seeing. Check out Desert Man Beast!
Thanks, Avery Guerra!