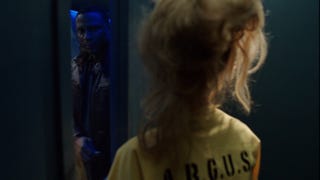 Before you get too excited, please know we don't have footage of that deleted scene. But the good news is that it's apparently on the Arrow season 2 DVD and Blu-ray set, which comes out tomorrow — and reports are that Harley Quinn makes a full appearance in the season 2 finale, and not just a voice cameo.
We do have the above photo of the incarcerated Quinn from the extended version of the finale's scene, so it clearly exists. In it, apparently Deadshot stops Diggle from letting her out to join the Suicide Squad because she's too crazy to deal with. Reportedly Quinn replies she wants to play and calls Diggle "Chocolate Puddin'," which is marginally weird.
I assume the scene will be uploaded several thousand times to YouTube tomorrow, once the set is officially released, so be on the lookout!
[Via Comic Book]