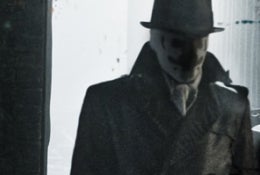 What's making Paul Levitz, the president of DC Comics, come over all coy at the end of a recent piece he wrote for Newsarama.com? Why is he suggesting that any comic fans interested in movies should mortgage their collection to make sure that they're in a particular place at San Diego Comic-Con on Friday? Does he think that fans will get something exclusive to watch, man?
At the end of his blog post about The Dark Knight (Spoiler: He likes it), Levitz wrote:
Oh, and while we're on the subject of movies, I'm not allowed to talk about some other footage I was looking at last week, but do offer to mortgage your collection to bribe your way into San Diego Comic-Con's Hall H on Friday the 25th at 11:55. And if you can't, console yourself by going into the exhibit hall and admiring the five-ton…oh, sorry, they're making me stop now.
11:55 on Friday in Hall H? A quick check of the con schedule shows that that's the scheduled time and place for Warner Bros' Watchmen movie panel:
11:55-1:00 Warner Bros.: Watchmen- A complex, multi-layered mystery adventure, Watchmen is set in an alternate 1985 America in which costumed superheroes are part of the fabric of everyday society, and the "Doomsday Clock"- which charts the USA's tension with the Soviet Union-is permanently set at five minutes to midnight. When one of his former colleagues is murdered, the washed-up — but no less determined — masked vigilante Rorschach sets out to uncover a plot to kill and discredit all past and present superheroes. As he reconnects with his former crime-fighting legion-a ragtag group of retired superheroes, only one of whom has true powers — Rorschach glimpses a wide-ranging and disturbing conspiracy with links to their shared past and catastrophic consequences for the future. Their mission is to watch over humanity...but who watches the Watchmen? Guest appearances TBA.
With the trailer for the movie due to be released with The Dark Knight this weekend, we wonder what could be so important about the panel to make Levitz so eager to get fans to attend. Will there be exclusive footage? Sneaks of Tales Of The Black Freighter? The entire cast acting out the movie for a stunned audience? Alan Moore appearing on stage to recant his feud with DC Comics?
We only have a week and a half to wait before finding out.
Paul Levitz: The Dark Knight [Blog@Newsarama]