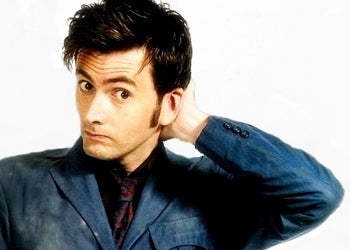 Already missing David Tennant's Doctor Who? Don't worry, he's already perfectly prepared to come back at some point in the future for a "Two Doctors"-esque guest appearance. And he's saying a special goodbye to American fans on BBC America.
Asked by MTV about the possibility of returning to the show he's literally just left, Tennant said,
Who knows? There's no immediate plans. I'd probably have to move away and let the dust settle and let the new team get established and all that. But there is a bit of a tradition of The Doctor meeting his former selves... It happened with me when Peter Davison, who I watched when I was growing up, suddenly came back and did a scene with us, which was a real thrill for me. [It was] very disorienting, to be faced with this guy who you watched as a kid in the gear - and there he was, in my TARDIS now. It was very odd.
For Tennant's final (for now) Who appearance, "The End Of Time, Pt. 2" airs tomorrow on BBC America. And it'll feature an exclusive five-minute goodbye message from Tennant after the episode airs.
David Tennant On His 'Doctor Who' Mementoes... And When He'll Be Back For A Cameo! [MTV Movies Blog]