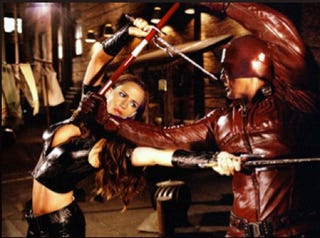 Can 30 Days of Night and Twilight Eclipse director David Slade undo the damage that Ben Affleck inflicted on Marvel's blind superhero, Daredevil? He's got a fighting chance — if they stick to the Born Again comic book series.
THR is reporting that rumored director Slade will be adaption the Frank Miller-written and David Mazzucchelli-illustrated Born Again Daredevil series. This is the storyline where shit gets real for Matt Murdock, and the hero basically goes insane when his ex sells his identity off for heroin. So yeah, this could be really good. Plus Affleck is no longer attached to any Daredevil project, so the film could be getting some fresh blood.
Fingers crossed Matt gets the epic movie he deserves at last.