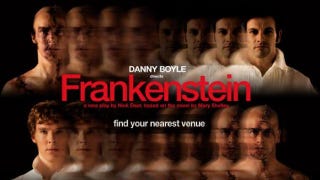 Now this is a show that doesn't need fancy stunts to sell us. Watch the trailer for Danny Boyle's stage translation of Frankenstein, coming soon to select movie theaters. (Previously Boyle directed 28 Days Later, Sunshine, and 172 Hours, among others). Just to make things really interesting, the two lead actors swap the roles of Dr. Frankenstein and the Creature with each performance.
The trailer (which shows the actors playing both parts) is for National Theatre Live's international broadcast of Boyle's Frankenstein. And yes, they will be screening both versions of the play starring Jonny Lee Miller and Benedict Cumberbatch. Here are the dates for both:
17 March: Benedict Cumberbatch (Creature), Jonny Lee Miller (Victor)
24 March: Jonny Lee Miller (Creature), Benedict Cumberbatch (Victor)
The play was written by Nick Dear which was heavily based on the novel by Mary Shelley. Tickets will go on sale in the next few days.
Here's the teaser:
Childlike in his innocence but grotesque in form, Frankenstein's bewildered creature is cast out into a hostile universe by his horror-struck maker. Meeting with cruelty wherever he goes, the friendless Creature, increasingly desperate and vengeful, determines to track down his creator and strike a terrifying deal. Urgent concerns of scientific responsibility, parental neglect, cognitive development and the nature of good and evil are embedded within this thrilling and deeply disturbing classic gothic tale.
Here is a list of cities and participating cinemas.