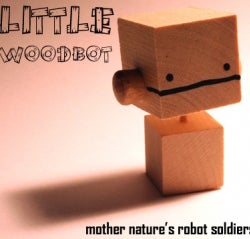 This cute little wooden robot is handmade, two inches tall, and just $5. Also, it's part of an army of fierce environmentalist soldiers. Makes perfect sense. Here's what creator Alexander Shen has to say about Woodbots:
The Little Woodbot is Mother Nature's robot soldier and they are currently surveying your world right now! You may not see them around, but they're not meant to be seen. They are gathering data to determine whether the world is due for another Big Reset, aka Natural Disaster to wipe the world clean. You know, to start a clean slate.
We've got some pictures of the damage these bots can do.
Here's what happened when the woodbots attacked another bot (for polluting?):

And here is a prototype woodbot, which had legs. Apparently legs are unnecessary for wiping the world clean.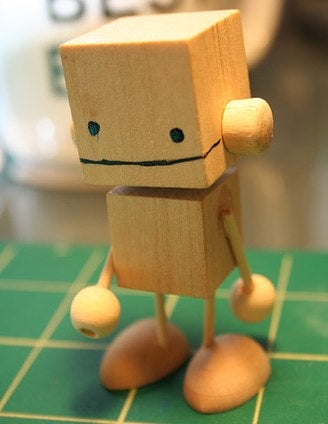 Series 1, which comes out in May, is almost sold out. But maybe you can get one on eBay, or just wait for the Big Reset.