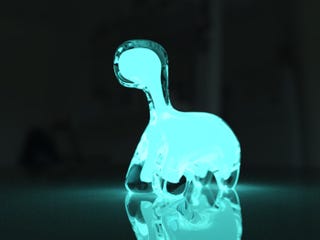 This little dino-shaped lamp is filled with bioluminscent critters and is looking for a home—and some funds. Also seeking financial aid are a series of Choose Your Own Adventure interactive cartoons and a shared-world, all-ages fantasy comic book series.
Remember those endless hours you could spend flipping through the pages of a Choose Your Own Adventure book, getting yourself turned into a gorilla or kidnapped by aliens? Now the Choose Your Own Adventure brand is looking to make interactive cartoons for kids ages 5-7 based on the same idea. The first title is Your Very Own Robot, about a troublesome robot named Gus. For a $6 pledge, backers receive a download of the Choose 'Toons app for iOS or Android.
When deciding what form to give their dinoflagellate-filled nightlights, the folks at Yonder Biology decided a dinosaur was a perfect fit. So they created the Dino Pet, an Apatosaur-shaped lamp whose innards photosynthesize by day and glow by night. For a $40 pledge, backers receive a Dino Pet of their very own.
Here's the pitch on this multi-creator comic book anthology series:
Cartozia Tales is an all-ages fantasy series, with nine stories in each issue, all set in the same world. But Cartozia is not your standard swords-and-sorcery setting. Although it does have gryphons and dragons and elves, it's also got stork-headed men and diminutive desert lizard people, wuggamuts and phibbits and tickle crabs, wandering library stairs and a shrinking swamp, essence magicians, incantors, and a global society of cartographers.
Seven cartoonists handle the core duties on Cartozia Tales: Sarah Becan, Lucy Bellwood, Isaac Cates, Shawn Cheng, Lupi McGinty, Tom Motley, Jen Vaugh, and Mike Wenthe, but guests artists like Dylan Horrocks, James Kochalka, and Evan Dahm also pay occasional visits to the shared world. You can learn more about Cartozia Tales on the series' website, and pledge at various levels for various subscription options.