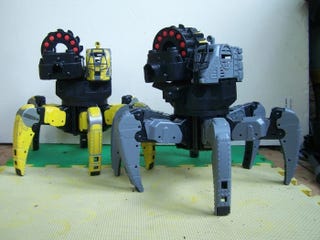 Want to build your own robot spider tank? You can fund kits for your small robot army on Kickstarter. Plus, there's an anthology of Afrofuturism, a comprehensive convention database, and a photobook that takes us behind the scenes of cosplay creation.
Who doesn't want a robotic spider tank? Toy inventor Jaimie Mantzel created the ATTACKNID battling robot spider and is now making kits that let you build a robot spider toy of your very own. Even if you're an engineering newbie, this is a great way to learn how to put a robot toy together. For a $77 pledge, backers receive the basic robot kit, with deluxe kits available at higher pledge levels. [via Boing Boing]
---
There are so many fan conventions out there that it's impossible to keep track of them—unless you have a single, comprehensive convention guide. The unCONventional is looking to make the con-goer's answer to IMDB, a complete database of convention listings and news, so you can plan ahead and see which conventions are coming to your area. For a £15 pledge, you'll receive a witty poem of thanks, a listing in the unCONventional Hall of Heroes, and the ebook Damn it! Drinking Games Inspired by TV Shows!. [via The Daily Dot]
As much as we love genre fiction, science fiction movies and television shows tend to neglect the black perspective. Mothership: Tales of Afrofuturism looks to bring attention to writers looking to expand the genre's diversity:
But that's Hollywood. While studio executives continue to show the world's multi-hued population through its monochromatic lens, the literary field of speculative fiction has become more diverse than ever. Whether it's horror, science fiction, or fantasy, steampunk or steamfunk (and let's not forget sword and soul), writers of color are producing quality works and accumulating accolades and awards every day.

Author Bill Campbell (Koontown Killing Kaper, Sunshine Patriots), poet/journalist Edward Austin Hall (the forthcoming Chimera Island), and artist Professor John Jennings (Black Comix, Black KirbyProject) have assembled 40 extraordinarily talented writers who represent just a part of the changing face of speculative fiction.
For a $10 pledge, you'll receive the Mothership ebook and a digital download of the Afrofuturist funk mixtape.
Los Angeles-based photographer Ejen Chuang will take us behind the scenes of cosplay costume creation with his book Cosplay in America. He will travel around the country, documenting the painstaking process of creating the elaborate outfits made by some of the US's most talented cosplayers as well as shooting portraits with the finished products. For a $45 pledge, backers will receive a signed copy of the book before it reaches stores. [via Laughing Squid]