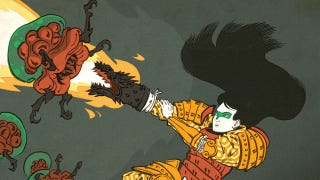 Want to help fund a giant robot that can carry two passengers? How about a series of geeky, Japanese-style woodblocks, or a documentary about hiking the John Muir Trail? Or maybe you'd rather see an original comic from a writer who fleshed out both Venom and Iron Man? Check out these products and decide if any are worthy of your crowdfunding dollars.
Stompy: The Giant, Rideable Walking Robot: You know what the world needs more of? Giant robots. Stompy will be an 18-foot-wide, 4,000 pound hexapod with two seats for easy riding. Created by a team of professional roboticists, Stompy will be a symbol of robots as a simple and publicly accessible technology. There are rewards at lower (and higher levels), but for a $40 pledge, you'll receive a Robot Evolution supporter t-shirt, a wristband that reads "FRIEND OF ROBOTS - DO NOT TERMINATE," and a bumper sticker declaring "My Other Car Has 6 Legs."
Ukiyo-e Heroes Woodblock Prints: We've shown you some of Jed Henry's wonderful woodblock prints, rendering video game characters in the Japanese ukiyo-e style. Now he's looking to expand on that series with even more geeky joy. For a $10 pledge, you'll receive a coloring book PDF featuring all of the designs. For a $40 pledge, you'll receive a digital giclée print of your choice.
Mile... Mile & a Half: a feature documentary about hiking the John Muir Trail: A group of friends filmed themselves hiking all 219 miles of California's John Muir Trail over the course of 25 days. This documentary tracks their experiences both with nature and with their fellow travelers. For a $35 pledge, you'll receive a digital download of the film or a CD of the soundtrack.
Bigger Bang Galaxy: a science fiction comic by David Michelinie and Weilin Yang: David Michelinie is perhaps best known for writing about Tony Stark's battle with alcoholism and the story of how Eddie Brock became Venom. Now he's teaming up with The Saturnist artist Weilin Yang for Bigger Bang Galaxy, about four different universes the emerge from the Big Bang and develop along similar, but somewhat different evolutionary paths. Factions from the each universe set out to find Neomatter, the very source of the Big Bang. The substance could prevent a multi-universal catastrophe, but there are some who wish only to control it. [via Bleeding Cool]