The cities of River Rouge, Michigan, and Windsor, Ontario, have been unable to find the source of a mysterious hum emanating from Zug Island. One documentary filmmaker is picking up the reins on the investigation, if he can get a little funding help. You can also help fund a LEGO artist this week, a man on a mission to sculpt a futuristic vision of peace and alien contact in the medium of interlocking plastic bricks.
CONTACT 1: A 200,000 Piece LEGO Masterwork: LEGO artist Mike Doyle is building a series of futuristic cityscapes he calls his Contact series. He spent over 600 hours on the above creation, the 200,000-brick city of Odan, and he's looking for funding to continue his series, which he says, "depicts the peaceful contact of extraterrestrials with a race of highly spiritual humans." For a $5 pledge, you'll receive downloadable model building instructions, and for a $13 pledge, you'll receive a small print depicting Odan. Starting at $35, Doyle is offering DIY model kits for some of the individual buildings. [via Laughing Squid]
Zug Island - The Story of The Windsor Hum: Zug Island sits between Windsor, Ontario, and Detroit, Michigan, in the mouth of the River Rouge. In the last few years, a mysterious hum has begun emanating from the island, and no one seems to know the source. Filmmaker Adam Makarenko and his team are looking to make a documentary investigating the hum and the industry on the island. For a $10 pledge, you'll receive a digital download of the finished film.
G/O Media may get a commission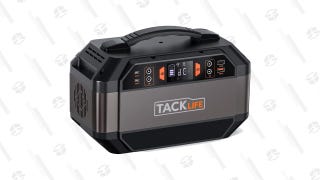 Tacklife Portable Solar Generator