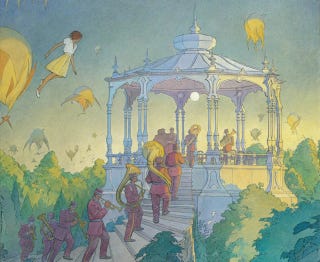 This week's crowdfunding takes us to a counter-Earth, and a never-before-translated story from François Schuiten and Benoît Peeters' Les Cités obscures. You can also back a documentary about cicadas, a comic starring a young gay superhero, or a book about Jack Kirby collected by his son.
Some of the books from François Schuiten and Benoît Peeters' gorgeous alternate universe series The Obscure Cities have never been published in English, but Steve Smith and Alaxis Press are finally giving one of those stories The Leaning Girl, an English edition. For a $30 pledge, you'll receive a copy of the book (which will retail for $29.99) and a limited edition promotional poster.
Natural history filmmaker Samuel Orr has been filming periodical cicadas since 2007, and has accumulated more than 200 hours of footage of these infrequent visitors. He's currently working on an hour-long documentary on 17-year-cicadas (as well as other cicadas), but he's still looking to capture footage of the Australian varieties of cicada. For a $20 pledge, you'll receive a download of the film, screensavers, and access to a supporters-only production website.
Jeremy Kirby, son of legendary cartoonist Jack Kirby, is putting together a coffee table book about his father's life and work. The Life and Times of Jack Kirby will feature personal photographs, artwork and a never-before-seen play written by Kirby. For a $10 pledge, you'll receive a PDF of the play. For a $50 pledge, you'll receive the PDF, plus three Kirby prints and a copy of the completed book. [via Boing Boing]
As a kid, Alex Woolfson always longed to see more gay heroes in his genre fiction stories, and his own webcomic, The Young Protectors, features a closeted gay hero who embarks on a dangerous path when a supervillain learns his secret. The comic is penciled by Adam DeKraker and colored by Veronica Gandini. For a $10 pledge, you'll receive a PDF of the book and digital downloads of all content created for the campaign. For a $20 pledge, you'll receive the digital content, the printed book, and bonus trading cards.
Edit: And by popular demand:
A couple of commenters rightly pointed to this fantastic-looking project. Harbinger Down will be a science fiction horror film with no digital effects. All of the effects will be practical, including makeup and animatronics. And it's got an amazing team: Lance Henriksen, Tom Woodruff, Jr., and Alec Gillis leading the way, Pat McClung, Robert Skotak, and Dennis Skotak on visual effects and production, and a score by Joel McNeely. Here's the pitch:
A group of grad students have booked passage on the fishing trawler Harbinger to study the effects of global warming on a pod of Orcas in the Bering Sea. When the ship's crew dredges up a recently thawed piece of old Soviet space wreckage, things get downright deadly. It seems that the Russians experimented with tardigrades, tiny resilient animals able to withstand the extremes of space radiation. The creatures survived, but not without mutation.
For a $25 pledge, you'll receive a digital download of the film, a photo of one of the creatures, a PDF of the shooting script, digital downloads of the production art, and access to behind-the-scenes footage.