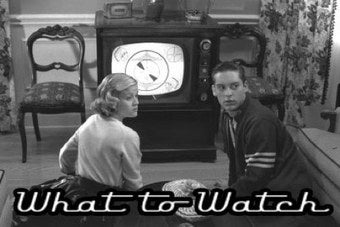 The miracle of life gets exponentially weirder this week with polymorphic embryos on Fringe and scary Visitor babies on V. Also, new Lost, SGU, Doctor Who, Supernatural, Ugly Americans, Vampire Diaries, and more!
MONDAY 4/19/10
Chuck's off today, but The Futurama Episode Of The Week is tonight (9:30 PM, Comedy Central)! In "A Taste of Freedom," Zoidberg eats the Earth flag to the rest of the planet's chagrin. Brought to you by the great taste of Charleston Chew!
There's also Hancock at 11: 15 PM on Encore, and The Fly II on (10:00 PM, Fox Movie Channel).
At 9 PM on NGC, there's a 25 year retrospective of National Geographic Explorer.
Late Night: This entire week looks to be a slow week for science fiction guests. Sorry, gang.
TUESDAY 4/20/10
New Lost (9 PM, ABC). In "The Last Recruit," Flocke and Jack merge their camps, while Hurley washes some Ilana off of his shirt. And looks like everybody's turning up at Jack's hospital in the "flash-sideways" universe.
On Survivors (9 PM, BBCA), our heroes meet another group of survivors, and Abby encounters the Lab and a group of prisoners she knows.
On V ("We Can't Win," 9 PM, ABC), Anna travels to Switzerland for the U.N. energy conference with Chad in tow, Erica discovers that the Fifth Column is under scrutiny, and Valerie escapes from Ryan after some pregnancy weirdness.
Mars Attacks! is also on AMC at 6:10 PM. And in a new episode of Ancient Aliens (8 PM, History), theorists investigate extraterrestrial presences from Earth's past.
On NGC at 10 PM, there's Explorer "Journey to an Alien Moon" - inventor Bill Stone builds an underwater device to explore Jupiter's watery moon, Europa.
WEDNESDAY 4/21/10
On Ugly Americans ("So, You Want to be a Vampire," 10:30 PM, Comedy Central), Grimes gets in trouble for vampire brutality, after harassing a Twilight -esque couple.
Pan's Labyrinth is on Sundance at 8 PM.
THURSDAY 4/22/10
On FlashForward ("The Garden of Forking Paths," 8 PM, ABC), Mark looks for the vanishing groom Demetri, and Alda has all the answers about Zoey's MIA hubby.
On The Vampire Diaries ("Miss Mystic Falls," 8 PM, CW), Elena and Caroline enter a beauty pageant, and John Gilbert puts the pressure on Damon, who in turn has discovered that Stefan has a secret.
New Fringe - on "The Man From the Other Side (9 PM, Fox), a shape-shifting embryo is found, and Peter divulges a Bishop family secret to Olivia.
Supernatural is on with "Hammer of the Gods" (9 PM, CW) - Sam and Dean are shanghaied away by a group of non-Judeo-Christian gods, and used as hostages.
On the National Geographic Channel, there's Naked Science: "Earth From Above" at 9 PM. Satellite data provides information on Earth's ecosystems.
FRIDAY 4/23/10
On Smallville ("Charade," 8 PM, CW), Raymond Sacks comes after Lois, and Chloe discovers a secret about Zod.
New Stargate Universe (9 PM, Syfy.) In "Human," Dr. Rush enters Destiny's computer, hoping it will reveal the codes having to do with the flight path.
On Star Wars: The Clone Wars ("Death Trap," 9 PM, Cartoon Network), Boba Fett recruits bounty hunters to bring down the Jedi Knights.
SATURDAY 4/24/10
New Doctor Who (9 PM, BBCA) - in "The Beast Below," The Doctor and Amy travel to a futuristic Britain, where people live in a giant spaceship, and Amy meets the creepy Smilers. Worth watching just for the line, "This won't be big on dignity."
On Syfy, there's the weekly movie: Mothman, starring the one and only Jewel Staite. A terrible presence haunts a town, yadda yadda yadda. More importantly — Kaylee!
SUNDAY 4/25/10
On Breaking Bad ("Sunset," 10 PM, AMC) Walt, Jr. wants to know about his parent's relationship, and Hank's investigation causes trouble for Walt and Jesse.
Thanks to David Daw for the awesome research.