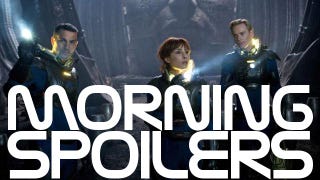 Morning Spoilers
If there's news about upcoming movies and television you're not supposed to know, you'll find it in here.
Matt Smith has a crazy casting suggestion for the upcoming Doctor Who episodes. A new Star Trek Into Darkness synopsis reveals key details. Damon Lindelof explains why he won't return for Prometheus 2. Meet a brand new Iron Man 3 character. Plus Tom Hiddleston considers his Avengers future.
Spoilers from here on out!
Top image from Prometheus.
Star Trek Into Darkness
There's a new plot synopsis out that's different from the previous one in a few crucial respects. Here's the original:
When the crew of the Enterprise is called back home, they find an unstoppable force of terror from within their own organization has detonated the fleet and everything it stands for, leaving our world in a state of crisis. With a personal score to settle, Captain Kirk leads a manhunt to a war-zone world to capture a one man weapon of mass destruction. As our heroes are propelled into an epic chess game of life and death, love will be challenged, friendships will be torn apart, and sacrifices must be made for the only family Kirk has left: his crew.
And now compare that with the new one:
In the wake of a shocking act of terror from within their own organization, the crew of The Enterprise is called back home to Earth. In defiance of regulations and with a personal score to settle, Captain Kirk leads his crew on a manhunt to capture an unstoppable force of destruction and bring those responsible to justice. As our heroes are propelled into an epic chess game of life and death, love will be challenged, friendships will be torn apart, and sacrifices must be made for the only family Kirk has left: his crew.
The two main changes are that it's now explicit that Kirk is operating without Starfleet approval in taking on Benedict Cumberbatch's villain, and that Cumberbatch would appear to be working as one member of a larger group. [The Global Dispatch]
---
Avengers 2
Thanos is all but confirmed as the main villain for Joss Whedon's Avengers sequel, but Tom Hiddleston isn't sure whether Loki will again be there stirring up trouble as well:
"I don't know, and that really is the honest answer. I know I've been known for obfuscation in other quarters, but I have no idea, I haven't spoken to Joss. He's definitely doing it. So I suspect not, only because I think that probably the audiences are tired of Loki being the bad guy. Maybe the Avengers need somebody else to fight. But I'd love to be part of it again."
[MSN]
---
Iron Man 3
Here's a promo image featuring newly confirmed cast member Wang Xuequi. Plus a set photo showing Wang with Iron Man himself. [Marvel and Hollywood Reporter]
---
Star Wars: Episode VII
New Lucasfilm president Kathleen Kennedy suggests there will be a reasonably substantial update about the new Star Wars movie sometime early in the new year:
"I have no immediate update, but hopefully in January I'll have something that I can say."
Since it's already known that Little Miss Sunshine and Catching Fire writer Michael Ardnt is handling the screenplay, most people seem to be guessing that this update will reveal who is directing the new film, as that's the next logical bit of news to reveal. That, however, is just speculation at this stage. [TheForce.net]
Meanwhile, that Reuters report that had everybody thinking Episode VII would return to Yavin and show us a new Jedi Academy has been debunked already. Reporter Michael McDonald tells TheForce.net:
This was a mistake. I misunderstood what fan clubs had told me and shown me in book plots and that storyline has not been announced by Disney. Perhaps I should have written something along the lines of 'Yavin 4 appears in several Star Wars book plots and while Guatemala fans said they hope film crews return to Tikal, the company has not announced plans for the new episode.'
---
Prometheus 2
Damon Lindelof, who did an extensive enough rewrite on Jon Spaihts' Prometheus script to share the screenwriting credit, says he will not be involved in writing the sequel:
I am not. Ridley [Scott] and I talked at great length during the story process of the first movie about what subsequent movies would be if Prometheus were to be successful. And I think that the movie ended in a very specific way that hinted at, or strongly implied that there were going to be continuing adventures worthy of writing stories. What those stories would be would not necessarily usurp or transcend the Alien franchise as we saw it because we know that the Nostromo hasn't come along yet. So the idea was to set up a universe that… Is it a prequel? Okay. If that's what we want to call it, sure. But the sequel to this movie is not Alien. The sequel to this movie is this other thing.
He then explains that he just wouldn't be able to multi-task effectively enough to get the script written:
The thing about Prometheus was it was a rewrite. Jon Spaihts wrote a script and I rewrote it. And still it was a year of my life that I spent on Prometheus, kind of all in. The idea of building a sequel to it — from the ground up this time — with Ridley is tremendously exciting. But at the same time, I was like, "Well that's probably going to be two years of my life." I can't do what J.J. [Abrams] does. I don't have the capability. I'm usually very single-minded creatively. I can only be working on one thing at a time. So I said to him, "I really don't think I could start working on this movie until I do this other stuff. And I don't know when the other stuff is going to be done." And he was like, "Well, okay, it's not like I asked you anyways." He and I are on excellent terms and it was a dream come true to work with him. But much to the delight of all the fanboys, I don't see myself being involved in Prometheus-er.
Check out the link for his full explanation. [Collider]
---
G.I. Joe: Retaliation
Here's a new international poster. [Coming Soon]
---
Doctor Who
The BBC has released their press pack for next week's Christmas special, "The Snowmen", and here are some key hints from Steven Moffat:
The Christmas episode is Doctor Who, only more so, and this year we're going for more epic. The Doctor, when we meet him, isn't in a good place. A bit like when we first encountered William Hartnell as the Doctor in 1963 - or indeed Christopher Eccleston in 2005 - this a cold and withdrawn Time Lord, wanting no part of the world around him. It's going to take a lot of Christmas spirit to get him back out those TARDIS doors.

This episode welcomes Jenna-Louise Coleman. What can you tell us about her character?
It's going to quite a journey of discovery with Jenna and her character - and it doesn't start here, it starts on Christmas day. For now, enough to say, that the Doctor in his darkest hour, long ago in a Victorian winter meets the exactly the right person. Or does he?
And new companion Jenna-Louise Coleman discusses her character Clara, who according to this first meets the Doctor while working as a barmaid at the possibly significantly named Rose and Crown pub, then starts following him:
"She is from the Victorian era and a mysterious one. Very down to earth, but feisty and curious too with numerous jobs. He has the answers to her questions. She isn't intimidated by the Doctor. Instead, she finds him amazing and ridiculous. But she is on her own mission and lives by her own means. She is very resourceful."
And finally here's a hint from guest star Tom Ward about his character, Captain Latimer:
"He hasn't been used to dealing with his children. He wants to love them, but he is an old naval captain that has struggled to build a relationship."
There's some more at the link. [Dr. Who Online]
Life, Doctor Who, and Combom has compiled all the various spoiler-y hints and out-of-context quotes released by other sites. We'll share a selection, but do check out the original sites or the Combom page for all of them. Here are some from Doctor Who TV:
The "First Question" is asked twice more!
A friend of the Doctor brought Strax back to life after the battle of Demons Run
"I never know why. I only know who"
"Do you have a goldfish named Colin?"
"That's Strax and as you can see, he is easily confused!"
Bow ties are still very cool. Although it takes someone to remind the Doctor of this.
Now onto some quotes from Cult Box:
"Psychotic potato dwarf."
"It could be a terrible weapon in the wrong hands."
"Why would I run? I know what's going to happen next."
"Do you think I'm gonna start investigating just because some bird smiles at me?"
"You invented fish."
"I suggest a full frontal assault with automated laser monkeys, scalpel mines and acid."
And finally some from Digital Spy:
Long-time Who fans will love the new title sequence - guaranteed.
"I don't need anyone else."
The snowmen and Richard E Grant's Dr Simeon may not be the only lurking threat...
"Do you want to see where she died?"
"The Great Swarm is approaching!"
The final sequence sets up 2013's Who episodes wonderfully.
Again, check out the links for more. [Doctor Who TV, Cult Box, and Digital Spy via Life, Doctor Who, and Combom]
When asked about the possibility of the Master returning to the show, Matt Smith threw out quite possibly the most awesomely awful, utterly bonkers casting suggestion ever:
"Is The Master coming back? Who knows? We'd love to have William Shatner on Doctor Who I'm sure. He's a sci-fi God! He'd be great. John Simm is pretty damn good in the role though."
For his part, Steven Moffat responded to this possibility by suggesting John Simm still very much considers himself the Master and would fight an octogenarian to keep the role, which I imagine can't be a bad sign for his eventual return:
"I love William Shatner but John Simm is The Master... John Simm would beat [Shatner] up if he thought he was going to take that part. William Shatner being The Master would be too confusing wouldn't it? He's Captain Kirk! It's already confusing that there are now two Captain Kirks. But if I was considering it I wouldn't tell you."
I think we've pretty much put that whole weird story about Harry Potter director David Yates making an all-new Doctor Who movie to bed, but Steven Moffat keeps returning to the story every few months and doing the verbal equivalent of nuking it from orbit, just to be sure it's well and truly dead:
The thing that I would find intolerable is that you get a film instead of the TV series because the TV series is more important. And I don't think any showrunner or future showrunner of Doctor Who would tolerate the idea that David Yates was talking about, of rebooting it and having a second continuity. That's just nonsense. Absolutely insane and a straightforward insult to the audience. We'd never, ever do that. The question would be how could we do it without delaying or harming the TV show? I think it could be incredibly exciting to see that TARDIS fly on the big screen. It would just be how do we arrange it? And how do we make sure we have … no offense, but you suddenly take American money and they expect to tell you what to do and all that. I wouldn't be happy with that. But it will happen someday, I'm reasonably confident.
---
American Horror Story: Asylum
Returning star Dylan McDermott discusses his new role as Bloody Face II:
Ryan [Murphy] is the one who designed the character. Then, we talked at length on how he would look and what we wanted. We came up with this mullet idea and the tattoos, and how I'm really a blue collar guy, as opposed to the psychiatrist that Ben Harmon was. I think we were both looking to do something radically different than we had last season, but it was Ryan's invention.

Did you work directly with Zachary Quinto on your characterization of the son of Bloody Face, or was there anything you watched him do that informed the choices that you made for your character?
I just watched him and picked up a few of his mannerisms. There is one scene coming up where we're in the same room. In the writers' room, they put up a picture of me and Zach and Sarah, to see if I could be their son, when they were casting it, and I guess I passed the test. I think that we do have some similar qualities, in our darker features, so I don't think it's much of a leap. But, I did try to listen to his voice and look at his mannerisms, a little bit.

How many more episodes will you be appearing in?
I believe I will be in the next three out of four.
There's more good stuff at the link. [Collider]
---
Misfits
Costar Matt Stokoe discusses where he would like to see his character Alex head in the future:
I'd like to be a super-villain, but I really don't know where he's going. In this series it was mainly to do with Alex's immediate problem, we didn't really learn that much about him, so there's still a lot to be discovered. I've always wanted to play a super-villain so hopefully I'll come back with a cape and a big twirly moustache.

I think a super-villain is something that Misfits hasn't really seen yet. They have these guest villains but if there was some over-riding, evil, character that they were all trying to kill throughout the season – or he was trying to kill them throughout the season – that could be brilliant. The good thing about Misfits is that you get to dabble in everything. No one is a really good person and no one is a really bad person – they've got these real human flaws. It's essentially a really, really, really dark comedy so you get to flex those muscles as well. But everyone remembers the villain, so that's always been a dream of mine.
---
Additional reporting by Charlie Jane Anders.