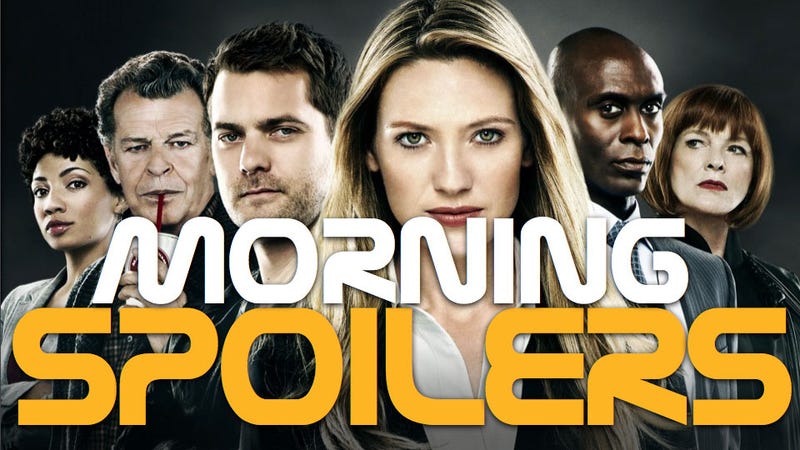 Morning Spoilers
If there's news about upcoming movies and television you're not supposed to know, you'll find it in here.
Jamie Foxx talks more about Amazing Spider-Man 2, and James Badge Dale explains the villain hierarchy of Iron Man 3. Vin Diesel's Riddick has a release date. There's the motherlode of Fringe finale hints. Matt Smith drops some hints about an upcoming Doctor Who adventure. Plus Samuel L. Jackson wants in on ABC's S.H.I.E.L.D. show... but not in the way you'd expect.
It's all spoilers from this point forward!
Top image from Fringe.
Star Trek Into Darkness
Composer Michael Giacchino discusses the movie's rather offbeat nine-minute opening, which was recently released as a prologue before IMAX screenings of The Hobbit:
"The opening of the film is quite different from what you would expect from the opening, I think, of a Star Trek film. It starts off in the hospital and you're kind of like-wait, am I in the right theater? What is this? Where the heck am I? And that's intentional. We really wanted to give the audience a distance from the characters. Not speak too plainly about what it is that they're doing, what's going on, the music isn't commenting too much about what's happening. But the idea was to get across that - what you see in front of you, is what you see in front of you, but there's something much bigger going on behind the scenes. And what is that? I don't know yet. We don't know. But it's growing, and it's evolving, in a way in which Star Trek music really traditionally doesn't really do. It's a slightly different way to approach it."
There's some more at the link. [First Showing]
---
Iron Man 3
Former Rubicon star James Badge Dale offers this concise explanation of how his character Eric Savin, alias Coldblood, fits into the movie's villainous hierarchy:
"Ben Kingsley (The Mandarin) is the mouthpiece. Guy Pearce (Aldrich Killian) is the brain. I'm the muscle."
---
The Amazing Spider-Man 2
Django Unchained star Jamie Foxx talks some more about his costume as the villainous Electro:
It won't be green and yellow. It will be a different color. They (the producers) want something for the future. They want to have it more grounded and not as comic book-y, so it won't be green and yellow. They want to try new things, like a liquid rubber and things like that, and there are all these bolts and stuff in my arms when they are hanging me upside down and trying to figure out what happen. How did he become this way? So, it will be some new stuff. In the script, this villain is the first time it's been written really, really well. Andrew Garfield and Marc Webb both commented on how great the script is, so it should be an exciting time.
---
Riddick
Vin Diesel's third Riddick movie officially has a release date: September 6, 2013. The film will be released in both IMAX and standard formats on that date. Here's a new photo of Diesel as Riddick alongside director David Twohy to commemorate the news, as verily all Riddick announcements do require some form of official commemoration. [Shock Till You Drop]
---
Jupiter Ascending
We know that the Wachowskis' insane-sounding sci-fi epic stars Magic Mike's Channing Tatum and Forgetting Sarah Marshall's Mila Kunis, and that it is "set in a time where humans are at the bottom of the evolutionary ladder and follows a woman who has been targeted for assassination by the queen of the universe." We might also now know the identity of another cast member, as My Week with Marilyn and Les Miserables actor Eddie Redmayne is reportedly up for an unknown supporting role. [Variety]
---
Oz the Great and Powerful
Here's an international character poster showing off Rachel Weisz as the witch Evanora, presumably following some sort of evil transformation. [Coming Soon]
---
Monsters University
Here are some new images from Pixar's upcoming Monsters, Inc. prequel. [/Film]
---
Doctor Who
Star Matt Smith drops some plot details for a story coming up in the second half of series seven:
"What if there was a monster in the Wi-Fi? It's the genius of Steven Moffat again. What exists in the Wi-Fi? We all need it..."
Since that fairly heavily implies Steven Moffat is writing the episode, and I'm pretty sure Moffat is only down to the right the first and last episodes of the second half of the series, I'd guess Smith is talking about the next episode after the Christmas special. Still, that's just guesswork on my part. [Den of Geek]
---
Fringe
Here are some set photos from the series finale, courtesy of EW. Each photo has a caption featuring commentary from showrunner J.H. Wyman, which are all well worth checking out. Here's his description of one of the final scenes filmed for the show:
"Yesterday, we had an emotional day in the lab with a scene involving Walter and Peter. 'As they were performing it, you could hear a pin drop. After it was over, there was applause because it was so incredible, and sitting with John Noble after it was over, it all sort of hit me. I had been so busy, I never took time to realize, Wow, it's over. We both took a moment and sat there in silence. It was very heavy. Lots of strange emotions.''
You can also check out a final, largely spoiler-free set report from VanCity Filming here. [EW]
Here's a bunch of cast interviews.

---
Game of Thrones
Here's a behind-the-scenes video for the third season, focusing on the show's art direction.

---
S.H.I.E.L.D.
Samuel L. Jackson says he hasn't spoken to Joss Whedon about the possibility of playing Nick Fury on ABC's upcoming TV show, but he does say he is open to quite literally phoning in some cameos:
"I don't know. I keep hearing about it, and I haven't talked to Joss about it. But in my mind, I would tend to think that he would, if nothing else, be like Charlie in Charlie's Angels. At least be the voice!"
Jeph Loeb, one of Marvel's flagship comic book writers, mostly recaps what we already know about the show, but he does suggest that we could be seeing S.H.I.E.L.D. real soon:
Well...we have a "little" pilot for television that you might have heard about called Marvel's S.H.I.E.L.D. co-written, directed, and Executive Produced by none other than Joss Whedon! Working with Joss, Jed Whedon, Maurissa Tancharoen, Jeffrey Bell on the show is a blast! And bringing in Clark Gregg to play Agent Phil Coulson — the best! Hopefully we will be on in the Fall of 2013 on ABC!
---
Arrow
Here's a promo for the midseason premiere, "Burned." With a title like that, you really have to have Firefly as the guest villain, and the show does not disappoint. [Comic Book Resources]

In its continuing and entirely laudable quest to cast every genre-friendly actor on the planet — a process that has already brought in Torchwood's John Barrowman, Fringe's Seth Gabel, and Battlestar Galactica and Dollhouse's Tahmoh Penikett — the series has reportedly cast Penikett's BSG castmate James Callis as The Dodger. Here's a description for the character, courtesy of TV Guide:
[He's] an elusive international jewel thief who imposes his plans on the innocent, forcing them to carry out his crimes under duress. When the Sherwood Ruby goes missing in Starling City, the ensuing investigation leads Oliver (Stephen Amell) and Diggle (David Ramsey) straight to The Dodger, but apprehending him won't be as easy as they may have thought. No word yet if Callis' Dodger is the same villain-turned-Arrow ally as in the DC Comics.
The fact that The Dodger is described as "international" probably means that Callis will be allowed to use his normal British accent, as opposed to that gloriously insane American-ish thing he used on Eureka. I'm not actually sure how I feel about that. [TV Guide]
The fifteenth episode will reportedly be called "Team-Ups." [SpoilerTV]
---
The Vampire Diaries
Executive producer Julie Plec previews an upcoming episode:
"We're just now writing a script which, in a perfect world, will take us back to the '70s in New York City. Everything could change, but it's an era we haven't explored yet. It could be a lot of fun. It'll definitely involve our brothers in some form or another."
She also offers this cryptic update on Katherine's status:
"That elusive vixen is still somehow lurking in the shadows. "but keeping herself well hidden… Given Klaus' continued presence in Mystic Falls, we shall see if we'll be able to get her back into town."
[TV Line]
---
Additional reporting by Rob H. Dawson and Charlie Jane Anders.