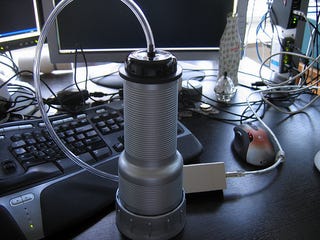 You know you've always wanted to see what would happen if you could control a first-person shooter with your penis — or, if you don't have one of your own, the penis of a friend. Maybe you want to literalize the term "cock block," or maybe you want to leave the mousing to your special down-there places while your hands roam freely across the keyboard. Either way, Kyle "Slashdong" Machulis has the ultimate futuristic, posthuman USB device for you.
The new USB fleshlight is basically an input device that can translate your onanistic thrusts into movements of the mouse. Theoretically it could be used to translate thrusts into other things too, like shooting in a game or moving around in a virtual space. You'd just have to write the controllers to do that.
However, the beauty part of using the fleshlight as a mouse is that the setup is plug-and-play. Plug the old fleshlight in, start thrusting, and you're moving the mouse.
The question is, why the hell is anybody marketing these things? Apparently they come with some kind of awful videogame that is mostly hand-controlled but later switches to thrust control. The game involves you trying to seduce a nurse, and Machulis sums it up nicely:
You have to sit there hitting the "hand presents" or "take medicine" button for 10 minutes. Then she takes off her shirt. Then you have to fondle her by clicking for at least 15 minutes. Notice the problems here?

"Hitting". "Clicking".

All you can do with the fleshlight is move the mouse. You can't click shit. So, you've gotta spend ~20 minutes doing things with your regular mouse before you can do anything with the fleshlight. And you sure as shit ain't gonna have both the mouse and the fleshlight going at once, unless you want to know what it's like to have your penis actively fighting your hand.

Due to popular demand, I actually included pictures of the action scenes. And yes, it really took me about 10-15 minutes to get to this point. My hand hurts. And not in the fun way. And, of course, once you do get the payoff, you find out that the male character (i.e. you) looks like a radiation experiment gone awry. Bugged out eyes, missing half his chest hair...
Actually, I think the chest hair from the right side of his pecs might be on his head.


The fun in this device, however, is going to be all the hacks you could do on it. Think about it: now you have the first-ever cock controller! You could buy stocks . . . with your cock! Read a blog . . . with your boner!
Continues Machulis:
Assuming I can figure out a nice, cross platform way to unfuck the HID shit, expect to see libinteractivefl on sourceforge sometime soon, 'cause you know handing out headshots with this thing in an online shooter would be beyond awesome.
The future is so bright I gotta wear shades, man. Photo via qDot.
TMI About the Interactive Fleshlight [Slashdong]