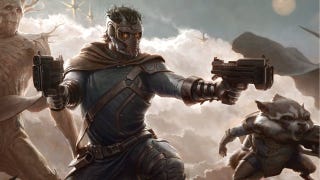 Joseph Gordon Levitt is apparently the new hotness for comic book movies in the pipeline. A few weeks ago the internet was whispering that JGL would become the new Batman in Warner Bros. Justice League movie. And today, reports are circulating that the actor might be up for a role in James Gunn's Guardians Of The Galaxy movie.
Deadline is reporting that Marvel Studios has added JGL to the short list to play Peter Quill, aka Star Lord, in Guardians.
It was previously rumored that Gunn was testing Joel Edgerton, Jack Huston, Jim Sturgess, Lee Pace, Eddie Redmayne Zachary Levi for potential parts, but the director has poured cold water on all of the casting rumors via his twitter account. Deadline isn't sure if JGL has been offered the role, but they're certain that he's been involved in some manner. Meanwhile, nobody's yet speculating about which actor is going to play the all-important role of Rocket Raccoon.