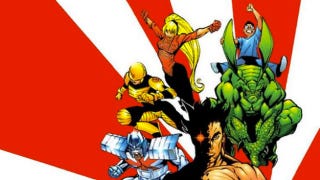 Is Disney ready to ditch the princesses and start manufacturing animated version of lesser-known Marvel comics? Looks like it. We've been speculating for months what the first animated Marvel/Disney movie would be, and apparently the two have decided upon the obscure Japanese superhero team Big Hero 6. According to It's On The Grid and Disney news blog Blue Sky Disney, producer Kristina Reed and Winnie the Pooh director Don Hall have been tapped for this project. Reports the latter site:
The slot that is set for 2014 has been put aside for Don Hall's project. Don Hall is the director of "Big Hero 6." In fact, he's the one that pitched the idea to [John] Lasseter, who liked his take on the subject and approved it for development. Now, it's not fully green lit. The project is story boarded and has been deemed strong enough to tentatively put in the production line.
Big Hero 6 is a superhero team sanctioned by the Japanese government. The team is made up of such heroes as whiz kid Hiro Takachiho, his bodyguard android Baymax, Wolverine antagonist Silver Samurai, occasional X-Man Sunfire, and the magical purse-wielding Honey Lemon.
[Via CBR]