Morning Spoilers
If there's news about upcoming movies and television you're not supposed to know, you'll find it in here.
Peter Jackson gives his latest guided tour of The Hobbit. Edgar Wright and J.J. Abrams have their very own top secret collaboration. Plus Sarah Wayne Callies opens up about Lori's future — or maybe lack thereof — on The Walking Dead!
Spoilers from here on out!
Top image from The Walking Dead.
Catwoman
Looks like we can add one more idea to our list of ways for Warner Bros. to keep Christopher Nolan's Batman universe alive — because Anne Hathaway says she would consider doing a Catwoman spin-off movie under the right circumstances:
"I think it would be lovely to see more of her but only if it's with the right people. She lives in this Gotham City and so it would have to be established by the people who have made this Gotham City. For me, at least."
That of course means Christopher Nolan and company would need to be involved, at least in some capacity, for the project to happen. And while all this seems pretty unlikely, this actually is an idea Nolan himself has previously registered some support for, at least theoretically speaking:
"She's an incredible character and we're very excited to see her and hopefully we'll leave people wanting more. For me, Gotham and these characters, I'm done. I've told our story and I'm moving on. I certainly think she deserves [her own film], she's incredible."
G/O Media may get a commission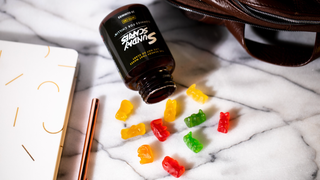 10mg CBD Gummies (22-Count)
So, I'd say this is actually just extremely unlikely, as opposed to astonishingly unlikely. [Digital Spy]
---
Catching Fire
Although this was pretty much assumed, Lionsgate has now officially announced that Sucker Punch's Jena Malone will play Johanna Mason in the Hunger Games character. For what it's worth, the official announcement describes the character as "a female victor from a past Games still in her early twenties, and...one of the youngest, but also one of the most psychologically scarred Quarter Quell participants." [Deadline]
---
The Hobbit
Here's Peter Jackson's latest production video blog, including some of the footage that was recently shown at Comic Con. It also features dangerously high levels of Sylvester McCoy awesomeness, if only briefly. [IGN]

---
The Ward
Erstwhile Mad Men actor Michael Gladis has reportedly been cast in the lead role in this science-fiction romance. The movie is reportedly set in a world "under one form of government, in which lawyers with guns police the world and enforce people's personal contracts," and the story "follows a dysfunctional family being forced into a never-ending life of house arrest." The rest of the cast includes the great Martin Landau, Oz and Lost costar Harold Perrineau, Broken Flowers actress Alexis Dziena, Donnie Darko's James Duval, and Queen of the Damned actress Marguerite Moreau. Cory Cotaldo, who previously wrote and directed the 2010 indie Mad World, is handling scripting and directing duties. [Variety]
---
All You Need Is Kill
Tom Cruise has reportedly headed to London to begin prep work on his time-looping soldier movie, directed by The Bourne Identity and Jumper's Doug Liman. [Deadline]
---
Red 2
Captain America actor Neal McDonough, who recently finished up a stint being awesomely terrifying (not to mention terrifyingly awesome) on Justified, has reportedly joined the cast of Bruce Willis's next aging assassin movie. This one will find returning cast members Willis, Morgan Freeman, Helen Mirren, and John Malkovich "searching for a weapon of mass destruction but [they] must first break out the man who created the weapon from an insane asylum." It's not yet clear how McDonough fits into all this, but if Justified is any indication (and it so, so is), he'd make one hell of a villain. [Variety]
---
Doctor Who
Steven Moffat discusses the overarching story — or lack thereof — for the upcoming seventh season:
There'll be something going on, yes. Last time we went for a very big arc, this is a much more lightly sketched one this time, but there is something yeah, to reward the one who watches it every week...
There's obviously the story of the Doctor saying goodbye to the Ponds and there's obviously him saying hello to someone else, but wait and see, wait and see how we do that. I can't say something else without giving everything away.
He also explains how Amy and Rory return to the TARDIS for the first five episodes of the series:
What you've seen is them leave the TARDIS. What you've seen is a decision, 'let's go and get on with our lives'. It's not that they then move back in as it were, it's a continued relationship with the Doctor. Something that's always intrigued me about the Doctor, certainly in the old series you know, someone would leave the TARDIS and he'd never see them again, I mean, who does that? You'd go and visit.
There's some more at the link, including some tidbits from the cast. [Den of Geek]
---
True Blood
Deborah Ann Woll discusses what's ahead for Jessica and her maker Bill:
They'll have to connect at some point. He's in a very difficult situation with the different political power structures and he has to get his progeny involved to make sure she's not a liability in any way. He has to get that under control. I do think it's going to be more dangerous for her... He's lost Sookie, he's lost his family, but he has this progeny that surprisingly he's very proud of and happy to have made. They really only have each other right now, and it would be devastating for either of them to find out that the other one isn't who they fought for...

I think the arrival of Lilith is going to change everything. It's going to change everyone, and that certainly includes Bill, it includes Jessica, it includes Russell, it includes Jason. Yes, I think everybody's going to change with the arrival of such a strong, powerful icon. It'll be like the second coming of Christ, in a way. This powerful force is actually going to impact her life in a very real way.
There's plenty more at the link. [TV Guide]
---
The Walking Dead
Since Lori meets her fate during the prison segment of the comics, there's at least some possibility that her TV counterpart isn't especially long for this world. If that's the case, Lori actress Sarah Wayne Callies says she's ready to meet her end:
"On a show like The Walking Dead, you know that your very first scene brings you one scene closer to the scene where you're going to get iced. That's just the nature of the beast. [Former showrunner] Frank Darabont and I actually — before he was tragically and unfairly removed from the show — we used to argue about it. I argued that it was necessary to kill Lori. I feel very strongly that for all of the other deviations that we have from the script that we may have from the comic book, killing Lori does something to Rick that is vital for the story and that can't be done any other way. I've said from the beginning, not only am I OK with Lori dying, but I think she has to. I've played this character with an eye toward an end."
Whether or not her death is imminent — and, in fairness to this show, it could quite legitimately go either way — Callies had a number of other hints to drop about season three, including Lori's ever evolving, ever dysfunctional relationship with her husband:
"Lori's fear is that, in killing Shane, Rick became Shane and that he's turned into a man who's not a humane, compassionate person, but somebody who is now somewhat cold and bloodthirsty. But Rick's fear is that Lori will reject him and will refuse to see that everything he's doing for her he's doing out of love for her and his family. The two of them are so mired in self-hatred and shame right now that they can't reach out to one another. That's a big rift to find a way to cross."
There's more at the link, including thoughts from showrunner Glenn Mazzara and star Andrew Lincoln. [TV Guide]
---
Once Upon a Time
Here's a new batch of set photos, this time featuring Evil Queen actress Lana Parilla. [SpoilerTV]
---
Grimm
Here are some cast photos for season two, which kicks off right after the Olympics on August 13. [KSiteTV]
---
Revolution
Here are some interviews with show creator Eric Kripke (best known for creating Supernatural), star Billy Burke (best known for being one of the least objectionable parts of Twilight), and costar Giancarlo Esposito (I really shouldn't have to tell you that he's best known for Breaking Bad). You can also check out the link for additional interviews with fellow cast members Tracy Spiridakos and JD Pardo. [TV Equals]

---
Supernatural
Considering the show was originally meant to conclude at the end of the fifth season and has often seemed more than a little aimless over the last two years, new showrunner Jeremy Carver has the perfect solution—come up with a new mega-story that will take the show another three seasons to see through. At least, that's the theory:
We really are building some foundation for a storyline that can carry us on for at least a few more years. There's a note card in my office that says "The end of season 10" right there. I have that note card; that note card exists in fantasy right now. I don't know if there's going to be a season 10 but, you know, that's what keeps me getting up in the morning.
You can check out the full interview video with Carver below. [Screen Rant]

---
Being Human (US)
Here are some interviews about the upcoming third season with stars Sam Witwer and Meagan Rath. [TV Equals]

---
Teen Wolf
Star Tyler Posey teases what's ahead for Scott in the second season finale:
"He has been formulating a plan this entire season and it finally pays off. He and Stiles are all happy and back to their chilled lives, thinking they can breathe for a little while - but they can't. Some new characters come in and there are a couple deaths of some awesome people. And I can tell you there's a lot of black blood, which means someone's body is rejecting something."
[TV Guide]
---
Additional reporting by Rob H. Dawson and Charlie Jane Anders.