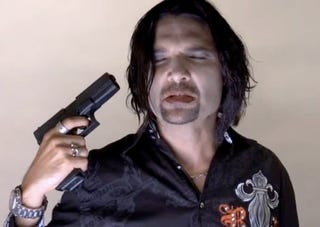 This demented video starring Corey Feldman, chanting magically, then blowing his brains out feels like a sad little cry for help. Instead it's much worse — it's a trailer-ette for a Netflix original movie, directed by Joe Dante.
This little film, that I can't imagine anyone would want to miss after that viral nonsense, is called Splatter. Corey plays the character Johnny Splatter, naturally, who loves Ed Hardy, magic, and has terrible aim. That is all we know so far, and Corey is attempting to keep this bizarre movie a mystery until audience members stream the film from Netflix on its big premiere night.
Here's what Corey wrote at his blog:
"So the project we are doing is a very scary exciting one. This has all been top secret for some time now, and I am finally able to leak out some information. I cannot tell you everything as there are still some restrictions until next week. But heres what I can tell you. We are joined together by the power of Netflix. The project is titled "Splatter" and is being created for Netflix. This will be their first ever live streaming web series. Splatter will be a multi episode web series that will go live on the web on Halloween weekend. My characters name is Jonny Splatter."
My question is how did Gremlins creator Joe Dante get involved in this nonsense? Roger Corman is also producing.