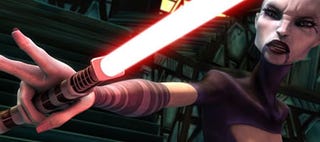 Proving that Edwin Starr may have been wrong and war is good for something after all, Star Wars: The Clone Wars is getting a network promotion of sorts, with the show moving to TNT.
For those who haven't been paying attention to the latest version of George Lucas' violent fantasies, the entire first season of The Clone Wars will be re-aired on Cartoon Network's sister channel starting Valentine's Day before settling into a regular Wednesday 10pm schedule. The move comes following the series giving Cartoon Network its largest series launch and consistently winning its timeslot for boys aged 6-11; TNT is, according to Variety, looking for the series to establish a similar lead in their target demographic of males aged 18-49. We're unsure if the series is good enough to do that - or whether the nostalgia level for Star Wars in general is what execs are hoping will come into play - but can't wait to see whether it succeeds, and what happens next if it does.
New Clone Wars episodes continue to air on Cartoon Network through March.
'Clone Wars' gets encore on TNT [Variety]