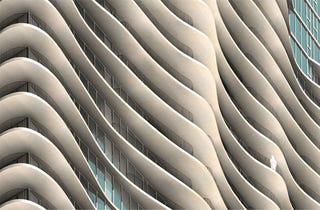 Sears Tower might be the tallest skyscraper in Chicago, but it will soon be outdone style-wise by the new Aqua Tower, pictured here. Aqua Tower is modeled after waves in the ocean, which look cool and fare well when it comes to good views, solar shading, and contouring outdoor terraces. Here are the deets on this swirly behemoth.

- Façade made of glass
- Undulating, asymmetrical balconies
- 55,000 square feet of retail and office space
- 210 hotel roons
- 476 rental units
- 263 condo units
- 823 feet high
- Completion date: 2009
- Cost: $300 million
Even though it's not symmetrical at all, it looks like a really tall rectangle from far away.
Images by Studio Gang Architects
Studio Gang Architects via World Architecture News