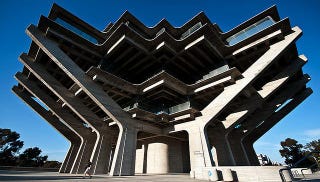 Most people reading this site have a library which is special to them. See how yours stacks up against the world's best and most beautiful libraries. From snake-walks to grounded starships to views that might keep people's eyes off their books, we'll indulge in library porn.
Like most people, my favorite library is the one I went to as a kid. It had a sale counter (where paperbacks were twenty-five cents) and a beautiful, full-grown redwood tree that was encircled by the entrance ramp. It also had a big basement filled with old periodicals that no one looked at (and was therefore perfect for the leisurely reading of risque material like back issues of Cosmo and Lady Chatterley's Lover). I loved that place.
I do have to admit, though, that it doesn't rate compared to these beautiful libraries. Here we have the Bibliothek des Rechtswissenschaftlichen Instituts in Zurich doing its best impression of a cross between a bookish heaven and the mothership. Lining up to read along the inner wall of the central spiral isn't just perfect because of the view and the chance to flirt with the person directly across the chasm from you. There's a giant skylight above this that, from the outside, makes the whole building look like it's carrying a massive, brilliant blue beetle on its back. The people inside just have to read and listen to the echoes and resist the urge to run zip lines between the floors. Or maybe they don't have to resist. You never know how permissive library staff will be.
The Seattle Public Library, meanwhile, enjoys making its patrons feel like they're inside an aquarium. That's a neat trick considering how much water is always going to be coming down outside of the library. If you have a moment or two to spare, search for images of people washing those triangular windows. They have to be brave, tireless, and well-versed in geometry. There's a price for being this chic. The inside is pretty cool as well, with one hallway entirely drenched in red light, and chairs that look like little black pills. Still, it's the watery-looking not-quite-exteriors that really make this place shine.
The Biblioteca España, in Medellin, Colombia doesn't give a damn about chic. It's just come to conquer us puny humans. This is an antidote for anyone who thinks that picturesque libraries have to be Hogwartsian. There's no quaint charm here. There's no cute brickwork or darling towers. There are not even any clean, geometric lines. There are just huge buildings with strategic shininess, that look like they're about to step off that hill and crush humanity under their fists. (Or whatever the equivalent of fists that libraries have.) The little connecting line between the front two buildings, by the way, is a walkway with the most badass view that anyone could want. Look at those buildings. They are as beautiful and terrible as the morn. Treacherous as the sea! Stronger than the foundations of the earth! All shall love this library, and despair.
I think my favorite, though, is the snake mural leading up to the UCSD library in San Diego (pictured up top). It's equal parts hippie mural, ambitious landscaping project, and homage to the elder gods. Drool with envy over these, and tell us about your favorite library.
Top Image: Ray from LA. Seattle Library: Jan Tik. Biblioteca Espana: Alejandro Sajor. Snake Mural: Travis Hornung. Via Spot Cool Stuff.