If the Internet was built so that people could post pictures of their cats, then Twitter was built for this. Artists came up with their best kitty-Marvel mashups and tweeted the adorable results.
Cartoonists Chris Eliopoulos and Katie Cook started the meme earlier this week, trading pictures of felinized Galactus and MODOK. Soon enough, the #MRVLCats hashtag spread, inspiring other artists to join in on the caped cat fun.
You can peruse Twitter for more Marvel Cats, or check out some of Marvel editor Ryan Penagos' favorites.
[via The Beat]
Catvengers Assemble by Mike Maihack

Kitty Miss Marvel by Lar deSouza

The Meowty Thor by Lar deSouza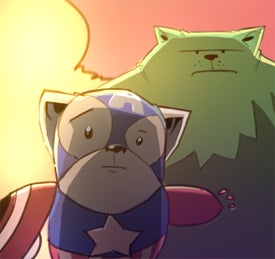 Vision the Persian by Brianne Drouhard

Kitty, the Living Planet by Chris Eliopoulos

M.O.D.O.C. (Mental Organism Designed Only for Cuteness) by Katie Cook

Doctor Strange Kitty by Adam Koford

Luke Cage, Purrr Cat by Evan "Doc" Shaner