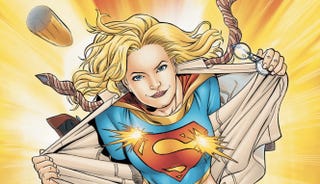 Not wanting to be left out of the burgeoning superhero/comic TV show race, CBS has just issued a series commitment to Arrow and The Flash producer Greg Berlanti's new Supergirl show. This means that if CBS likes the pilot, the Supergirl series will get a certain amount of episodes ordered guaranteed.
As Deadline points out, this means every major network is running a superhero TV show or has one in the works:
• CBS: Supergirl
• Fox: Gotham
• ABC: Agents of SHIELD, Agent Carter
• NBC: Constantine
• The CW: Arrow, The Flash, iZombie
It's also worth noting that all but one of these channels have series based on DC comics, and the one hold-out is ABC, which just happens to be owned by Disney, which obviously owns Marvel. Craziness.
I'll be the first to admit I predicted that the Supergirl series would join Berlanti's other DC CW shows — I'm still sure the CW wanted it quite bad — but I failed to account for how much CBS would want to get into the comic TV game. Anyways, it's still very good news for comics fans.