Progressive Roman Catholic Cardinal Carlo Martini died last Friday of Parkinson's disease at the age of 85. Shortly before his death, however, and knowing that he didn't have much time left, he did a candid interview with the Italian newspaper, Corriere della Sera, in which he lashed out at the Church for its backwardness and stubborn unwillingness to reform. "The Church is tired," he said, "our prayer rooms are empty."
Martini, a Jesuit priest who was once regarded as a potential Pope, urged leaders to acknowledge the faults of the Roman Catholic Church and start the process of reform. Not one to toe the party line, he made a name for himself back in 2008 when he unilaterally declared that the Church's stance had likely driven many of the faithful away, while also stating that condoms could "in some situations be a lesser evil."
The BBC shares some of the details of the interview: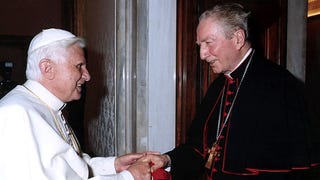 Catholics lacked confidence in the Church, he said in the interview. "Our culture has grown old, our churches are big and empty and the church bureaucracy rises up, our religious rites and the vestments we wear are pompous."

Unless the Church adopted a more generous attitude towards divorced persons, it will lose the allegiance of future generations, the cardinal added. The question, he said, is not whether divorced couples can receive holy communion, but how the Church can help complex family situations.

And the advice he leaves behind to conquer the tiredness of the Church was a "radical transformation, beginning with the Pope and his bishops".

"The child sex scandals oblige us to undertake a journey of transformation," Cardinal Martini says, referring to the child sex abuse that has rocked the Catholic Church in the past few years.

He was not afraid, our correspondent adds, to speak his mind on matters that the Vatican sometimes considered taboo, including the use of condoms to fight Aids and the role of women in the Church.
As their Vatican correspondent David Willey reports, It's highly unusual for a leading member of the Catholic hierarchy to openly challenge Church teaching.
But for people hoping to see the Catholic Church reform, they're likely going to have to wait for someone brave enough to make these sorts of proclamations while they're still alive.
Images via BBC, Catholic Press Photo.