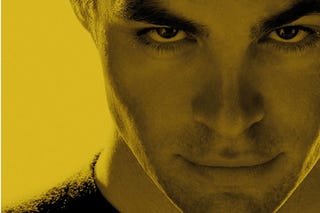 While superbowl audiences are wondering just why that young guy is pretending to be William Shatner, Star Trek's new Captain Kirk Chris Pine is preparing to be named "Male Star of Tomorrow" by expo ShoWest.
The upcoming movie industry tradeshow - during which, movie theater owners will see previews of this summer's blockbusters, courtesy of studios eager to impress and gain buzz - will recognize Pine as an upcoming star during its March 30th through April 2nd run in Las Vegas, according to the Hollywood Reporter. ShoWest co-managing director Mitch Neuhauser told the paper,
ShoWest has a history of recognizing major talents at the very earliest points in their rising careers... Pine's impressive skills on the screen and stage will be sure to be showcased with his performance as Captain Kirk.
The potentially ironic recognition for a man staking his career on a revival of a 40-year old franchise will come during a banquet on April 2nd. Star Trek will be released in theaters May 8th.
ShoWest to honor 'Star Trek's' Chris Pine [Hollywood Reporter]