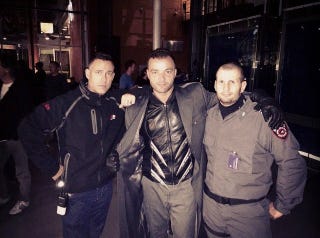 Check out the first look at Spartacus' Nick Tarabay as long-time Flash rogue Captain Boomerang, who will be making his inaugural appearance on Arrow later this season! (Don't worry, he's already slated to come to The Flash series, too). For a dude carrying multiple boomerangs on him, he's looking dapper as hell.
Clearly he's modeled after DC Comics' more recent Captain Boomerang, who, while looking pretty natty himself, seems to be dressed a bit more ready for action than Faraday.
Yet part of me wishes Arrow/Flash had just gone for it and used C.B.'s. original costume. Yes, it's ridiculous, but it's also terrifying. Hey, if you had to meet one of these guys in a dark alley one night, who you prefer — one of the reasonably dressed up top or the clearly psychotic dude wearing a blouse covered in boomerangs?
[Via Comic Book Movie]