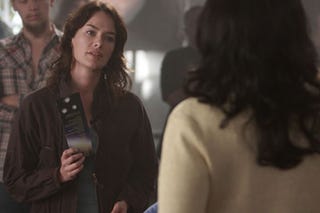 Friday's ratings for Terminator: The Sarah Connor Chronicles dipped to a point where even amazing DVR lifts may not be able to help. But will Fox factor in Watchmen's opening when looking at the numbers?
The Hollywood Reporter's James Hibbard didn't hold back when writing about the show's 17% drop in audience this weekend:
In the case of "Terminator," I'm calling it. Time of death: March 7, 9:20 a.m.
We're cautiously optimistic; Watchmen's much hyped (if less successful than was hoped) opening was targeted at pretty much the same audience as Fox's Friday line-up, and we wouldn't be surprised if the numbers actually bounce back up (slightly, at least) with the next episode. But will Fox wait to see that happen? We can only hope.
A slight ray of optimism comes from this interview with Fox President of Entertainment Kevin Reilly, which includes the following exchange:
THR: Can "Terminator" or "Dollhouse" financially make sense as broadcast shows next season if their ratings don't improve?

Reilly: Advertisers have liked the shows. Both shows are doing well on a c7 basis. It's too early to rule them out.
CBS tops Friday; 'Dollhouse,' 'Terminator' falls (again) [THR Live Feed]