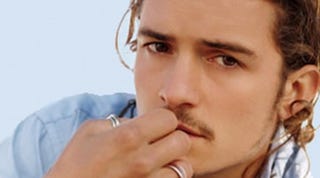 Scence fiction has survived many disasters in its long, illustrious history, but can it survive Orlando Bloom's entry into the genre? We're about to find out; Bloom has signed up to star in The Cross.
Variety reports that Bloom has signed on to star in the new SF movie from The Truman Show's Andrew Nichol, as a man in the "near future" who'll risk anything to pass beyond a mysterious barrier.
We're as much a fan of Pirates Of The Caribbean as the next blog, but anyone who's seen Bloom in - well, anything else at all, really - must have also come to the same conclusion that we have: He simply can't act. In fact, he has almost no screen presence whatsoever... which, admittedly, may work depending on Nichol's intent. But nonetheless, we're worried, especially after finding out that he'll be playing against Quantum of Solace's Olga Kurylenko. Will anyone even know that he's there?
Orlando Bloom to star in 'The Cross' [Variety]