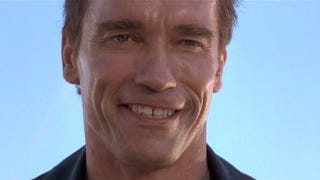 Indie film financier Megan Ellison has started an all-out bidding war for the Terminator movie rights against Lionsgate. Which means the new Terminator movie could actually be made a studio that isn't merely out to sell licensing rights to Slurpee.
Ellison has been building up plenty of buzz funding broke but brilliant productions (such as True Grit and John Hillcoat's The Wettest County in the World). She's been linked with filmmakers Spike Jonze, Paul Thomas Anderson and Kathryn Bigelow, and now wants a piece of the Terminator series. Deadline is reporting that Ellison, and her company Annapurna Pictures, is ready to pay for the rights to the saga. Right now both Ellison and Lionsgate are trying to outbid one another to buy back Terminator from the hedge fund that owns the rights, Pacificor.
Last we heard Arnold Schwarzenegger and producer Justin Lin were ready to make Terminator 5 — presumably with Lionsgate, who was very close to sealing the deal with Pacificor. But now Annapurna Pictures has stepped in to make things interesting. Fingers crossed, Ellison will win out in the end. We'd like to see who else she'd bring on to help save the Terminator. Goodness knows she has some amazing connections, and the Terminator could seriously use a total overhaul.
Whoever gets the rights, this could be the last hurrah for Skynet — the rights revert to James Cameron in 2018, and nobody expects him to give permission for Terminator 7.