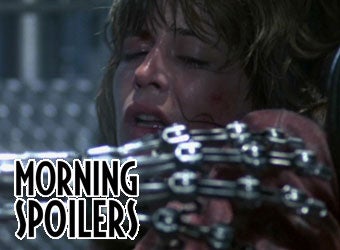 Morning Spoilers
If there's news about upcoming movies and television you're not supposed to know, you'll find it in here.
James Cameron explains how he's bringing his greatest passion to the Avatar sequel. An Iron Man 2 featurette includes Whiplash mayhem. Spielberg's new dinosaur show gets a star. Plus a Beastly trailer, and Lost, Doctor Who, Supernatural and Fringe spoilers.

Avatar:
Everyone already suspected that the sequel was going to spend more time underwater, and now James Cameron is confirming it:
We created a broad canvas for the environment of film. That's not just on Pandora, but throughout the Alpha Centauri AB system. And we expand out across that system and incorporate more into the story – not necessarily in the second film, but more toward a third film. I've already announced this, so I might as well say it: Part of my focus in the second film is in creating a different environment – a different setting within Pandora. And I'm going to be focusing on the ocean on Pandora, which will be equally rich and diverse and crazy and imaginative, but it just won't be a rain forest. I'm not saying we won't see what we've already seen; we'll see more of that as well.
The whole interview is worth reading, for his thoughts on film-making as well as why he doesn't read science fiction any more. [L.A. Times]
Iron Man 2:
Discover more about the film's villains, Whiplash and Justin Hammer, in this new featurette. Which includes their first meeting. [Comic Book Movie]

Beastly:
A new trailer for this modern New York-y retelling of Beauty And The Beast:

Doctor Who:
The documentary "The Ultimate Guide" includes a bunch of wee clips from upcoming episodes, including one clip of the Doctor using his sonic screwdriver for "breaking and entering":

And in particular, it includes a few more clips from the fourth episode, "The Time Of Angels". [BlogtorWho]
Click to view

And here are some new images from "The Time Of Angels." [Den Of Geek]


Terra Nova:
This Steven Spielberg-produced series about a family from the far future, who travel back in time to the dinosaur era, is beginning to take shape. Kyle Chandler (Friday Night Lights) is in talks to star. And Brannon Braga (Star Trek: Enterprise, 24, FlashForward) will serve as executive producer and showrunner. [EW]
Fringe:
In the two-part season finale, Walter and Olivia travel "over there," and Walter is finally reunited with William Bell (the final Leonard Nimoy appearance.) But traveling to the other universe involves serious consequences — including a death that will make fans apoplectic. (Does this just mean William Bell's dying? Or someone else? In the latter case, I'd guess either Astrid or Broyles.) [TV Guide]
And here are some promo pics for episode 2x18, "The Man From The Other Side." [Fringe Spoilers]


Here's what happens in episode 2x20, "Northwest Passage":
Peter teams up with a local law enforcement official, Sheriff Mathis (guest star Martha Plimpton), on a serial murder investigation with ties to Newton (guest star Sebastian Roché). Meanwhile, Walter copes with the possibility of being sent back to St. Claire's, and someone from the "other side" pays a visit.
And a new featurette. [Fringewatch]

Supernatural:
Here are 10 new promo pics for episode 5x20, "The Devil You Know." [TV Overmind]


One new promo pic for the following episode, "Two Minutes To Midnight." [Winchesters-TV]


Chuck:
The two-hour season finale will include a new romance, or something. It's hard to tell. [EW]
When the show returns, Chuck and Sarah will have had sex "and then some," and General Beckman's reaction sounds like it'll be interesting. [Fancast]
FlashForward:
Demetri's life hangs in the balance! OMG! Here are six clips from Thursday's episode:

And here's what happens in episode 19, "Course Correction":
Demetri and Agent Banks (Alex Kingston) attempt to track down a killer as questions arise about the universe course-correcting itself, when people who thought they'd escaped their fates are found dead; Mark reluctantly agrees to help Simon find his sister, Annabelle, but discovers he's withholding the truth about her true circumstances; the FBI discovers the identity of Suspect Zero; and Nicole learns the whereabouts of Keiko - the woman in Bryce's flashforward - but struggles with whether to share this information, due to her growing feelings for him
[The ODI]
Smallville:
Chloe and Ollie will be forced to take the next step in the season finale. And the appearance of Black Canary won't come between them this time around — but it sounds like a love triangle thingy could be in the offing at some point. [TV Guide]
Stargate Universe:
Here's a sneak peek from episode 14, "Human":
Click to view

Ashes To Ashes:
New promo pics for season three, episode four. [Den Of Geek]


Lost:
There will be loads of crying next week, and one upcoming episode will break your heart several times over. [E! Online and TV Guide]
Some new set pics are almost impossible to glean anything from, except that there are people standing on a beach. [SpoilersLost and SpoilersLost]
Here are some new promo pics from episode 6x14,"The Candidate," airing May 4. [TV Overmind]


Additional reporting by Mary Ratliff.