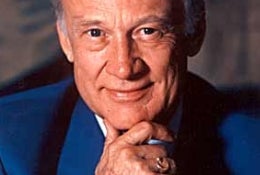 He may be hating on science fiction — well, apart from the movies that he stars in himself, of course — but that doesn't stop astronaut Buzz Aldrin from wanting to see his own adventures in space and beyond from being brought to the big screen. He's even ready to suggest who should star in the potential movie, just in case anyone's listening.According to People magazine, Aldrin is "already in talks" with filmmakers about turning his life story into a major motion picture. The movie, he told reporters, wouldn't just focus on his moon mission, but on "the battles he faced after his Apollo flight – and his subsequent love story." Aldrin elaborated on what those battles were:
My experiences post-flight were ones of not being very productive for quite awhile – depression and alcoholism, things like that... I was trying to recover from that and ran into [wife of 20 years, Lois] afterwards.
He even knows who should play Lois... or, rather, Lois does:
Lois likes Reese Witherspoon, because she played a similar part in [Johnny Cash biopic] Walk the Line.
That sound you hear is Witherspoon screaming at her agent that she doesn't want to become typecast as the downtrodden wife of famous bastards, even if they were as awesome as June Carter Cash. Astronaut Wants Reese Witherspoon as His Wife – On Screen [People]