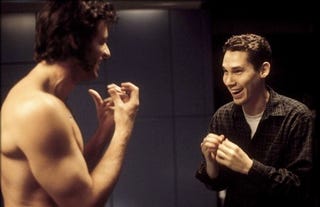 Even though Bryan Singer has talked up what he'd do with the X-Men: First Class film, he might not be the only director Fox is courting. Singer's commitment to Jack The Giant Killer might force Fox to look elsewhere.
Hitfix has the scoop about Bryan Singer's scheduling troubles with the X-Men: First Class film. Their sources report that not only is the Warner Brothers production of Jack The Giant Killer getting in the way of important X-Men: First Class production time, but Fox is realizing that Singer may not be the fan favorite director for this project. Plus, Fox doesn't want to wait until 2012, when the epic fantasy story Jack The Giant Killer will be over, to make another X-Men movie.
The article hints at a lot of game-playing politics going on behind Singer's comments in the LA Times article. According to Hitfix's sources, Fox had hard-balled Singer on X-Men 3, allowing Warner Brothers the chance to lure him to jump ship to Superman. So reportedly, there's a lot of bad blood between the two. But if Singer doesn't come back, does that mean we're in for another X-film by Brett Ratner or someone of his ilk?