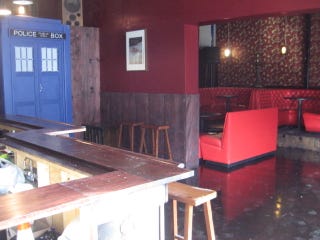 The Way Station, a newly opened bar in Brooklyn's Prospect Heights, is billing itself as the world's first steampunk bar and live music venue. But what exactly makes the bar steampunky?
Owner Andy Heidel opened the Way Station — named for the novel by Clifford D. Simak — in September, although his failure thus far to procure a liquor license has left the venue in a state of limbo. Although the bar isn't open on a daily basis, Heidel has been hosting events throughout the fall to attract a crowd steampunk fans and fanatics.
Surprisingly, despite a few Victorian-inspired touches, the decor doesn't particularly scream steampunk. The TARDIS, though, is a nice nod to the geeky tastes of its hoped-for clientele. Perhaps we'll see more gaslight and brass once the bar picks up its liquor license and gathers more — ahem — steam. But maybe it's just meant to be a spot where the goggles and corset-wearing crowd can gather and rub leather-clad elbows with like-minded souls. If you're interested in ringing in the New Year with a group of fellow steampunks, the Way Station is hosting a free New Year's Eve party this Thursday.
The Way Station [via Flavorwire]