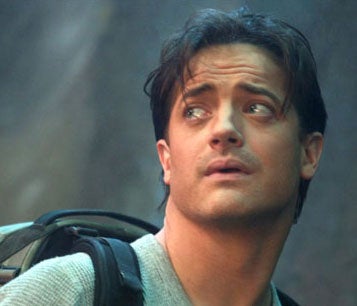 A family-friendly new remake of Journey to The Center of the Earth will probably make us wish we were stuck in the Land of the Lost. Brendan Fraser plays a geologist who explores a hidden passage through the Earth's crust after he receives a mysterious message in an ancient artifact. He discovers a world of strange creatures. Click through for production stills, and reasons to dread this film.
Fraser's scientist character has been discredited because of his crazy theories, but then he discovers the passageway into the deep caverns underground. The film was shot using the 3-D camera system developed by James Cameron for 2009's Avatar.
Brendan Fraser rules in art films like The Quiet American and Gods And Monsters, but he has a history of Monkeybone-ing his way through a horrendous spate of lighter films.
The lack of buzz about a movie coming out in July is a little worrying.
Let's just pray that an earlier Journey script, in which an explorer finds vampires at the Earth's center, left no trace on this one.
It's another pointless 3-D movie, cashing in on Beowulf's success and Avatar anticipation.
Fraser has a 13-year-old nephew tagging along, played by Josh Hutcherson (Zathura, Little Manhattan).
Director Eric Brevig is another newbie who's only done special effects work before (just like Aliens vs. Predator: Requiem's Strause brothers.)