Last year we reported on a new way of gathering power from wastewater, one that combined power generating from salinity gradients between salt and freshwater, and that produced by waste-eating bacteria, to create a self-sustaining power supply. But what happens if you're somewhere inland, where there isn't any saltwater to be had?
The same group of researchers have now published a way of getting around that hurdle, too. Rather than rely on saltwater, they use ammonium bicarbonate (NH4HCO3) solution, which has the ability to be constantly regenerated with low levels of heat, such as those that are produced naturally when wastewater is treated. With this technique, electricity is directly generated by the bacteria and voltages are increased by the salinity gradient.
The salinated water and the wastewater never actually meet, and the bacteria eats through some of the organic material in the sewage, rendering it cleaner. Yeah, it needs further processing, but every kilogram of organic material that goes through produces 0.94 kilowatt-hours of energy, and 35% of the organic matter is removed. There's even evidence to say that the material that remains in the water can be used to generate methane for further use.
A sewage treatment process that can work anywhere, cleans the water, and can generate power. Where do we sign up?
G/O Media may get a commission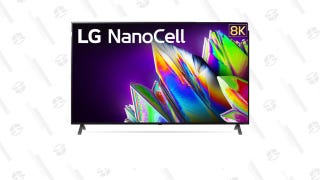 LG 75" 8K TV
Image from IEEE Spectrum.