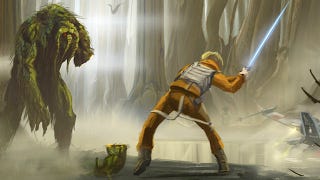 In honor of Star Wars concept artist Ralph McQuarrie's recent passing, a group of artists at Comic Book Resources' The Line It Is Drawn illustration competition imagined a world where just about anybody could enter the Galaxy Far, Far Away. There's no Jaxxon/Bucky O'Hare crossover, but the results are otherwise delightful. Let's start with Drew Cox's Man-Thing of Dagobah, above.
A Boba Fett/Deadpool team-up by Marco D'Alfonso.
Sean McFarland imagined a bar trip with Artoo and the beer-swilling Machine Man.

The Rancor meets Devil Dinosaur by Nick Perks. I could actually see this happening if Marvel continued publishing Star Wars comics throughout the 1980s.

Nick Perks' absolutely wonderful Fantastic Four #5 throwback. Hopefully Chewie is secretly Blackbeard.

This scene from Phillip Sevy's universe, which I imagine has a lot of shark fights. You can see more of these fanciful designs at Comic Book Resources.