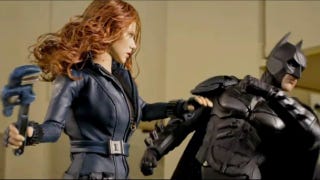 From the brilliant mind behind Iron Baby and the Puppy AT-AT comes the latest in awesome stop-motion shorts, Black Widow Gone Wild. Plus a gorgeous Mexican zombie movie and another short worth your immediate attention!
---
Black Widow Gone Wild
Patrick Boivin shows the world what it would look like if the cat-suited spy beat up everyone, everywhere, and sometimes with her breasts. Did you see T2's reaction right before he melted? What a robo-perv. Thanks for yet another smash viral vid Boivin.
---
.
File Under Miscellaneous
The opening to Jeff Barnaby's much buzzed-about short, File Under Miscellaneous, is online. Now you can get a sneak peak of the director's work, which screened last year at the Toronto Film Festival. We're curious to learn more about this horrific medical procedure:
Set in a dystopic metropolitan hellscape, a spiritually exhausted and destitute Mi'gMaq man has resolved to assimilate into the ruling culture. He visits a surgical clinic - the display window littered with skin and limb samples - and undergoes a gruesome procedure to rid him of his red skin.
[Via Twitch Film]
---
Los Infectados
Not your average post-apocalyptic flick. This Mexican zombie has one element that makes it stand out from the crowd — gorgeous landscape shots. Plus, who doesn't love hunting for zombies in the woods? Watch the trailer. Spotted on Quiet Earth.
---
Rat Scratch Fever
We've been follow this creepy cult fest flick ever since they released their awesome vintage posters. This flick's about an attacking brood of giant mutant space rats and is an homage to Bert I. Gordon's 1970s flick The Food Of The Gods, based on the H.G. Wells novel.
---
Errors of the Human Body
Eron Sheean's film, Errors of the Human Body, is allegedly based on real science. But there's very little out there about this film's scientific (or science fictional) inspiration. Maybe it's that rat with the ear attached to it, since that inspired just about every film about genetic research in the 2000s. Either way the premise is enticing, and here's the first ever video footage from set.
Seeking a new laboratory to pursue his controversial genetic research, Dr Geoff Burton takes up a position at the world-renowned Institute for Molecular Cell Biology & Genetics in wintry Dresden, Germany. His contribution to their most top-secret project - a human regeneration gene - has the potential to make something extraordinary out of a personal tragedy that has haunted him for years. But when he uncovers a conspiracy amongst his colleagues, he finds instead something quite different: a terrifying new virus, with potentially both devastating and miraculous consequences for humanity - and for Geoff, who is not only its first victim, but its unwitting source.
[Via Dread Central]