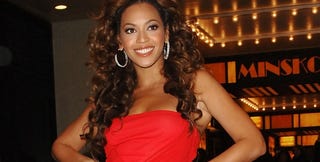 Now that we know that it's not Megan Fox, you may be thinking to yourself, well, who should be the movie Wonder Woman? One independent woman currently has her eyes on the role - and she's doing her best to put a ring on it before it's time to ring the alarm. Okay, I'll stop with the puns, but if she has anything to say about it, Beyonce Knowles will be cinema's first Diana Prince.Talking to the LA Times about the role, Beyonce said,
After doing these roles that were so emotional I was thinking to myself, 'OK, I need to be a superhero.' Although, when you think about the psychology of the heroes in the films these days, they are still a lot of work, of course, and emotional. But there's also an action element that I would enjoy... I want to do a superhero movie and what would be better than Wonder Woman? It would be great. And it would be a very bold choice. A black Wonder Woman would be a powerful thing. It's time for that, right?
I have to admit, while it may take some rewriting of the mythos, I'd love to see a Beyonce take on the character - and she's enough of a star to move the movie out of the eternal pre-production limbo that it's been in for years now. Beyonce is taking the idea seriously; she's apparently already met with people at DC Comics and Warner Bros about the possibility, and she's even thinking about what it'll take to fill out those satin tights she'd have to wear to fight for our rights and the ol' red white and blue:
I would definitely have to keep it right for that costume. The way that Lynda Carter wore it, she was sooo fine. She was amazing. I saw her costume at the Met. Her waist was unbelievable. It was pretty crazy, actually, her proportions. But I love Wonder Woman and it'd be a dream come true to be that character. It sure would be handy to have that lasso. To make everybody tell the truth? I need that. It would come in very handy.
You know you want this to happen. If nothing else, think of how awesome the theme song would be. Beyonce wants to lasso the role of Wonder Woman [LA Times]