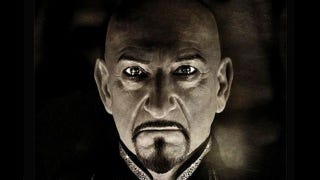 The trades are buzzing that Sir Ben Kingsley has been cast as the big bad in Iron Man 3. He's not playing the Mandarin, but we're pretty excited, as this recent casting news solidifies rumors that Iron Man 3 will be based around Warren Ellis' Extremis run.
According to Variety:
Ben Kingsley is in final talks to play the villain in IRON MAN 3, but fans of the comicbook character will be disappointed to learn he won't take on original Tony Stark archenemy the Mandarin... Instead, Kingsley's character is involved in the spread of a virus through nanobots, given that IRON MAN 3 is loosely based on Warren Ellis' six-issue "Extremis" comicbook series first published in 2005. That arc - which also heavily influenced the first Iron Man pic - introduced a new origin story and focused heavily on nanotechnology. -
Nanotech! The Extremis line has a lot of potential, even if the Mandarin did have some exceedingly chic accessories. Iron Man 3 is scheduled to open in theaters on May 3, 2013.