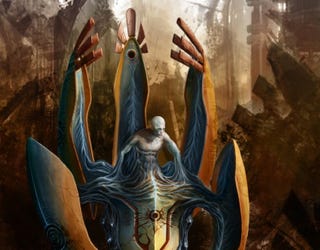 The addictive fantasy puzzle game Puzzle Quest: Challenge of the Warlords has just made the leap into science fiction. Game-maker Infinite Interctive recently announced Galactrix, which mixes portions of Hexic, Tetris and Bejeweled with outer space battles between all kinds of spaceships. Plus you can challenge other players to puzzle duels, and there will be extremely cool aliens. Find out more and check out the gallery inside.
According to Kotaku: Galactrix has an overarching storyline that ties all the puzzle battling together. In the far future, the entire galaxy is run by four mega corporations. It's not long before one of these corporations starts deadly experiments that go awry and threaten the existence of the universe. The player must puzzle battle these enemies of the universe and save us all.
We need more science fiction action that we can carry around in our pockets, so we say bring it on.