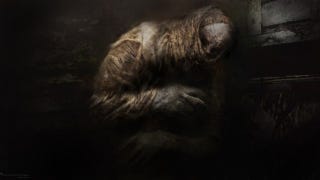 Cult Movie Worship is back with Spanish Snow White, a playful droid, Snowpocalypse, Schoolgirlpocalypse and the terrible, horrible creature known as Wormface! Behold the indie splendor.
Blancanieves
Who doesn't love a new translation of an already over-translated classic. But seriously, this Spanish bullfighting Snow White looks rad. Directed by Pablo Berger, Blancanieves, is set in 1920s Spain and follows a woman named Carmen and her plight under her evil stepmother (who in classic stepmother fashion is fabulously dressed). Yada, yada, yada the dwarves are all bullfighters.
[via Quiet Earth]

Tribe
The crowdsourced movie Tribe is set in a snowpocalypse. It looks fun, and cold. But I'm concerned as to whether or not they're going to eat the dog. You can't eat the do; that's going against the cardinal "the dog lives" scifi rule.
[via Kickstarter]

Rites of Spring
What appears to be a simple slasher flick gets seriously messed up with the introduction of the creature Wormface. Take a look at the trailer and concept art for Padraig Reynolds' monster, and then ask yourself what would you do if you and your friend were tied up waiting for the wrath of Wormface. Wormface! Rites of Spring is available for purchase online now.
A group of kidnappers abduct the daughter of a wealthy socialite and hide out in an abandoned school in the middle of the woods. But feelings of guilt soon overtake the kidnappers, dividing the group and putting their entire plan in jeopardy. The evening further spirals out of control when their poorly chosen hideout becomes a hunting ground for a mysterious creature that requires springtime ritualistic sacrifices.
Creature art from Aaron Sims.
Concept Art via Movies.com
Schoolgirl Apocalypse
It's like Battle Royale, but with more girls! And instead of a contest, everyone is killing each other for no discernable reason.
A Japanese schoolgirl, Sakura, has her idyllic small-town life turned inside-out when the local males start savagely killing the females. Armed with only her kyudo bow for protection and an English textbook for comfort, Sakura journeys through an apocalyptic world of mayhem. As trauma from witnessing the violent deaths of friends and family drives her toward madness, Sakura takes refuge in an animated dream-world where she meets Billy, a character from her English text! Billy helps her survive murderous zombies, as well as an even more formidable foe in Aoi (Tsujimoto), as she races to find real-world Billy and answers to the questions: Why is all this happening? And who or what is behind it?
[via SGA]

And finally, we start the week with this adorable little robot trailer for the short Proto created by Nick Pittom. Because cute robots are cute.