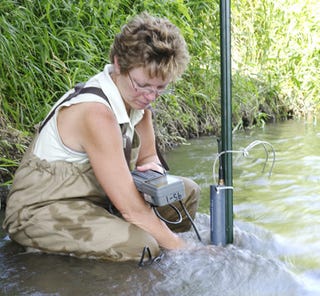 A study released today offers evidence that neonicotinoids, the same pesticides associated with honeybee deaths, are now flowing into our water supplies. Neonicotinoids are a kind of insecticide that some scientists say could be causing colony collapse disorder, which endangers bees and agricultural plants alike.
The new study reveals that in regions throughout Iowa, there are fairly high levels of neoniotinoids in the water supplies — greater than the levels of other agricultural chemicals in this farm-rich area. Neonicotinoids work by interfering with neurotransmitters in insects' brains, driving them to erratic behavior and death.
In the report, 79 water samples from across Iowa, the top U.S. corn-producing state, were collected during the 2013 growing season. Researchers said the use of neonicotinoid insecticides has grown in recent years, and they found them to be both "mobile and persistent" with "a strong pulse of neonicotinoids associated with crop planting" in streams.

The researchers said the broad use of the neonicotinoids, "needs to be closely examined in relation to environmental impacts."

Similar studies by the USGS have found many other types of common agricultural chemicals in stream samples in Iowa, but researchers said there was a "substantially greater neonicotinoid detection frequency" observed in this study compared to historical detections of other insecticides.
If the substance is getting into water supplies, it could destroy insects and ecosystems far beyond the farms where it has been used.
Read the complete scientific study in Environmental Pollution.
Photo via University of Iowa