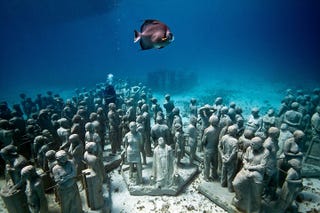 The BBC is killing it with new scripted series — Orphan Black and In The Flesh were two totally unexpected (but fantastic) TV surprises. And now we have a new series called Atlantis to look forward to. Fingers crossed this new drama doesn't sink the BBC's new record of quality drama.
THR is reporting that BBC America will also be airing the upcoming British series Atlantis. It's created by Howard Overman (Misfits), Julian Murphyand Johnny Capps. Set in the past when the mythical city Atlantis was still afloat the 13-episode series is set to air in June (on the Supernatural Saturday block).
Mark Addy (Game of Thrones), Jemima Rooper (Hex), Juliet Stevenson (The Hour), Sarah Parish (Hatfields & McCoys), Aiysha Hart (About Time) have all joined the cast. But not a lot is known about the plot just yet. Fingers crossed for mermaids.
Top image via The Guardians Jason deCaires Taylor: submerged sculpture images.