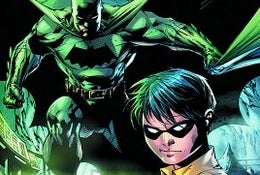 At this weekend's Baltimore Comic-Con, DC Comics' VP of Sales, Bob Wayne, made what amounted to the company's first public commentary about the accidental release (and subsequent recall) of a curse word-laden issue of All Star Batman And Robin The Boy Wonder, telling retailers that the publisher will start taking steps to ensure that that kind of thing never happens again. The first such step? Reading their comics.According to Newsarama's report, Wayne told retailers from the ComicsPRO trade organization that,
...DC will be instituting a new review period for all of its books between printing and shipping to retailers in order to thoroughly check for and prevent such errors from happening again in the future.
Doesn't that just mean that someone's actually going to perform a quality control check on the final printed comics? Isn't that something that you would have assumed was already being done (or not, considering)? That's not the only (admittedly, with the benefit of hindsight) no-brainer that's been announced a policy change as a result of the recent mistake:
Additionally, Wayne said that, in the case of blocking objectionable words with black bars, DC will no longer print the curse word underneath the black bar, opting to now make the bar roughly the length of the letters that the word would have been.
So now you have it - The chance of seeing Superman telling Jimmy Olsen to turn that motherfucking signal watch off before he gets a headache, cocksucking retard, just became that much more remote. Sadly. DC Responds to All Star Batman & Robin #10 Flap [Newsarama]